Scottish Cricket: Craig Wright 'strong' candidate for coach post
Last updated on .From the section Cricket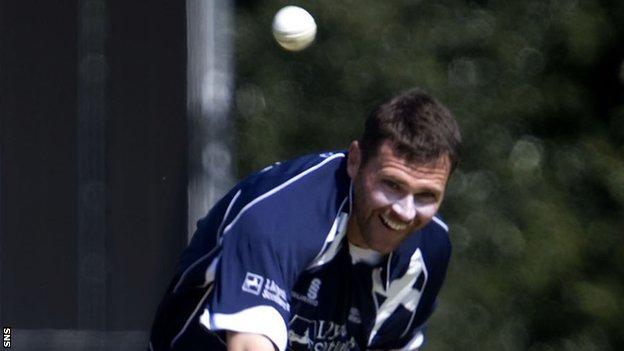 Scotland interim head coach Craig Wright is "one of a number of strong candidates" vying for the vacancy, according to Scottish Cricket.
Performance director Andy Tennant said former Scotland skipper Wright was among more than 20 applicants.
Wright and Paul Collingwood helped secure World Cup qualification, before the latter took up a role with England.
"We're shortlisting tomorrow [Tuesday]. We're going to try to move this as quickly as we can," said Tennant.
The successful candidate responsible for development of the men's national team up to and beyond the 2015 Cricket World Cup.
The vacancy arose following the departure of Pete Steindl in December.
"We've had in excess of 20 applications for the post from all over the world," said Tennant.
"Some coaches domicile in Scotland, some from wider in the UK and then further afield in the sub-continent and down into the southern hemisphere - South Africa, Australia, New Zealand - so it's been a real good worldwide interest.
"We're going to try to move this as quickly as we can because obviously we've got a season coming upon us so the quicker we can get someone into the post, the quicker we can get cracking.
"Hopefully weeks, rather than months. Obviously, depending on who gets the job, who the successful candidate is, as to how long it takes to get someone in post.
"Craig's one of a number of strong candidates. He's got a very good coaching CV and has done an extremely good job with our under 19s and obviously with the qualifying tournament. Craig would be one of a number of very strong candidates for the post."
Cricket Scotland has set targets for reaching the top 10 rankings in one-day and Twenty20 international cricket.
Scotland will face England in the 2015 World Cup after winning the ICC qualifying tournament in New Zealand.
Steindl had been head coach since December 2007 but exited the post after November's failure to reach the World Twenty20.