Indian cricket boss told to step down to ensure fair betting probe
Last updated on .From the section Cricket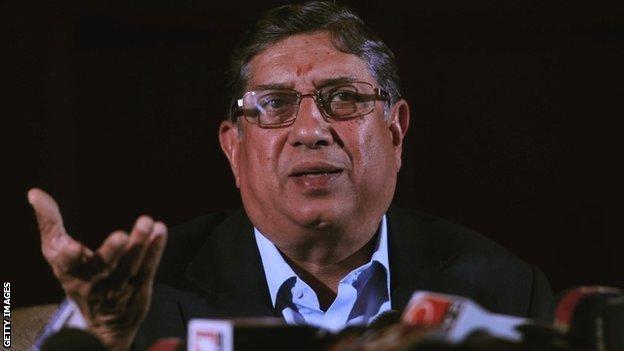 India's Supreme Court has asked the country's top cricket boss to quit so there can be a fair inquiry into spot-fixing in the Indian Premier League.
A two-judge panel said Narayanaswami Srinivasan's position as president of the Board of Control for Cricket in India was hampering the investigation, which involves his son-in-law.
The court said if Srinivasan does not step down, it will order his removal.
Srinivasan is regarded as the world's most powerful cricket administrator.
He was elected chairman of cricket's world governing body, the International Cricket Council, in February and will take up the role in July.
Srinivasan's son-in-law, Gurunath Meiyappan, was indicted last month on charges of betting and passing on information to illegal bookmakers.
The investigation was opened after several cricketers, including Test bowler Shanthakumaran Sreesanth, were arrested by Indian police on suspicion of taking money to concede a minimum number of runs.
Sreesanth, a fast bowler, denied any wrongdoing but was subsequently banned for life by the BCCI.
Confusion surrounds Meiyappan's role with the Chennai Super Kings.
Local media claim he was chief executive of the IPL team, but the company that owns the franchise, India Cements, said he was merely a member of team management.