IPL ban for Chennai Super Kings and Rajasthan Royals - court
Last updated on .From the section Cricket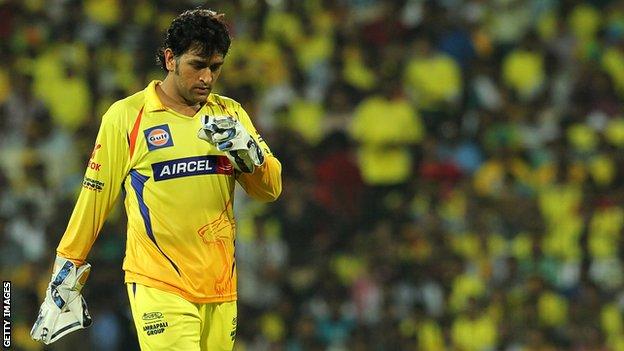 India's Supreme Court intends to bar Chennai Super Kings and Rajasthan Royals from this year's Indian Premier League, which starts on 16 April.
The two teams are being investigated as part of an illegal betting and match-fixing probe.
Chennai have reached the last four finals, winning in 2010 and 2011.
Justice AK Patnaik, head of a two-judge panel, said: "Chennai Super Kings and Rajasthan Royals will not be allowed to participate in the IPL."
Chennai Super Kings are led by India skipper MS Dhoni and have New Zealand captain Brendon McCullum in their side.
The Royals are captained by Australia all-rounder Shane Watson. The trio of players have not been implicated in the investigation.
The judges have been examining a report it commissioned into wrongdoing in last year's edition of the annual Twenty20 tournament.
The Supreme Court has also recommended that India batting legend Sunil Gavaskar takes over as interim president of the country's cricket board in place of Narayanaswami Srinivasan.
They want Srinivasan to resign so a fair inquiry into spot-fixing in the IPL can be carried out.
A two-judge panel had previously said Srinivasan's position was hampering the investigation, which involves his son-in-law.
Srinivasan is regarded as the world's most powerful cricket administrator. He was elected chairman of cricket's world governing body, the International Cricket Council, in February and will take up the role in July.
Srinivasan's son-in-law, Gurunath Meiyappan, was indicted last month on charges of betting and passing on information to illegal bookmakers.
Test bowler Shanthakumaran Sreesanth and his former Rajasthan Royals team-mate Ankeet Chavan have been banned for life by the BCCI after being arrested in May 2013 by Indian police on suspicion of taking money to concede a minimum number of runs.