Channel Island cricket hit by airline code share changes
Last updated on .From the section Cricket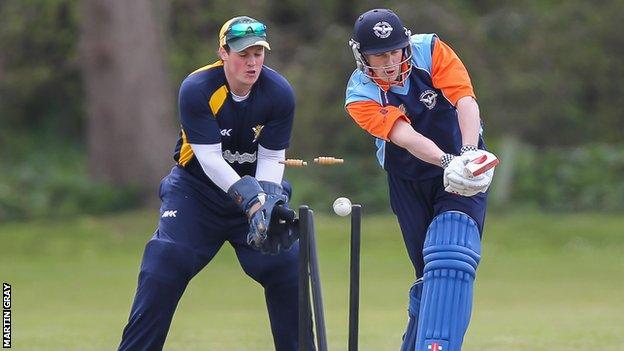 Cricket authorities in the Channel Islands say matches between teams from Jersey and Guernsey are under threat after changes to air schedules.
The two airlines that serve the Jersey to Guernsey route, Blue Islands and Aurigny, now have a code-share deal.
It means there are no longer suitable flights for teams to travel between the two islands in one day.
Times of the ferry service between the islands have also changed, meaning cricketers cannot go by sea.
The annual match between the champions of Jersey and Guernsey, the Upton, which was due to open this year's cricket season on 26 April, is now under threat as Cobo cannot find suitable travel to Jersey to take on Old Victorians.
"We are in dialogue [with the airlines] and hopefully there'll be a resolution," Guernsey Cricket Board chief executive Mark Latter told BBC Radio Jersey.
In the past the island's cricket authorities have gone to Aurigny at the start of the year to tell them when they want to fly and the airline has ensured there is enough capacity.
But under the deal Aurigny sells seats on the route, but only Blue Islands planes actually fly between Jersey and Guernsey.
It came after both airlines suffered losses on the route as their planes were often only half full.
"This year the boat option's not available so it's purely flights and we can't get what we want," Latter said.
"Sport is a good proposition, there's a lot of people playing sport in the islands and I would guess there's a huge capacity taken up in the summer.
"As a long-term passenger proposition we think we're a very good investment."
In a statement Aurigny's commercial director Malcolm Coupar said: "In order to maintain a viable inter-island service for everyone Aurigny and Blue Islands have joined forces to instigate a codeshare operation that, it is hoped, will work financially for both airlines and operationally for islanders.
"The new service has just been launched and we are constantly monitoring the operation to resolve any unforeseen issues and to meet our customers' needs.
"Aurigny and Blue Islands are in constant communication about the service and are discussing the existing schedule to see how it can be improved.
"Both airlines are keen to point out that large sports groups that wish to travel should always book well in advance so that we can schedule sufficient capacity to accommodate the demand and, if required, organise charter flights."
Condor Ferries say that while they put on special services for major events such as the inter-island rugby and football matches, which see large crowds of islanders going between Jersey and Guernsey, it is not viable to have services which operate at times which are convenient for cricket.
"We've got jumbo jets, if you like, with 150 cars and nearly 800 people on board," said Condor's chief executive James Fulford.
"Our main job is to get islanders where they want to go and if I was to take a ferry off from taking Jersey people down to St Malo because I wanted to take 20 cricketers somewhere I don't think they'd be happy."
The Channel Islands Cricket League was cancelled at the end of 2012 in part due to travel costs and problems, meaning the few games that are played between island sides are even more vital.
"I think it's essential because the cricketing playing public on each island is really very small. You end up playing each other a lot of times and you can get a bit sick and tired of seeing the same faces every week," said Jersey Cricket Board chairman Ward Jenner.
"The prospect of playing against people just across the water does make perfect sense.
"It's very important that we're playing as high a profile cricket back in the Channel Islands as we possibly can because we need to be competing on a world stage and to do that we need to be playing against our friends in Guernsey."