Chris Jordan & Michael Lumb win England incremental deals
Last updated on .From the section Cricket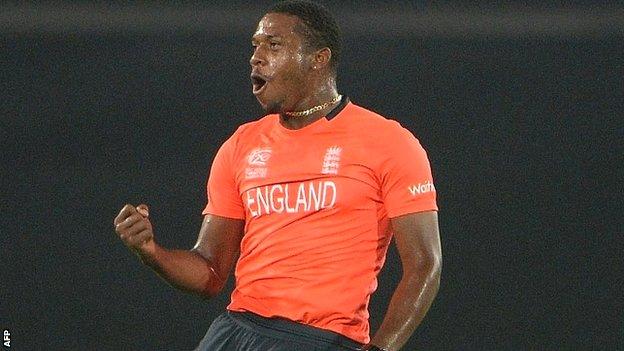 England have awarded incremental contracts to batsman Michael Lumb and fast bowler Chris Jordan for 2013-14.
Non-contracted players can earn incremental deals, a step below the central contracts given to established England players, via a points system.
Jordan, 25, and 34-year-old Lumb have both made 10 international appearances for England since the qualification period began on 1 October.
Spinner James Tredwell was also given an incremental deal this month.
Five points are awarded for a Test appearance and two for a T20 or one-day international appearance, with an incremental contract awarded automatically once a player reaches 20 points during the 12-month contract period.
Sussex's Jordan qualifies by having played five ODIs and a T20 against Australia, one ODI and a T20 against West Indies and two T20s to date during the ICC World T20.
He has played in seven ODIs since his debut in September, taking nine wickets, with six T20 wickets in four matches.
Lumb, of Nottinghamshire, has represented England in two T20s against Australia, three ODIs and three T20s against West Indies and two T20s at the ICC World T20.
The left-hander was a member of England's 2010 ICC World T20-winning side in the Caribbean and has played in 25 T20s since his debut in 2010, with an average of 22 and a top score of 63.
He made his ODI debut on the recent tour of the West Indies, scoring 106 in his first match last month.