Ashley Giles favourite as others shun England coaching job

By Jonathan Agnew
BBC cricket correspondent
Last updated on .From the section Cricket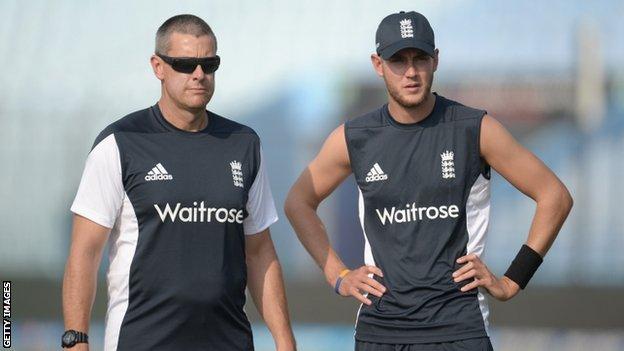 Monday's dead rubber against the Netherlands in the World Twenty20 will bring down the curtain on a shocking winter for the England team.
We can only hope they dispose of the Dutch in a professional manner so they don't plumb still greater depths before boarding the flight home.
It seems extraordinary that it was only back in mid-November that England were easily winning an Ashes warm-up match in Sydney and everyone was feeling very optimistic about the team. Batsmen were scoring runs, bowlers were taking wickets and everything seemed right.
Since then, just about everything that could go wrong has gone wrong - but now is the time to look to the future and start rebuilding English cricket from the foundations.
The most pressing issue is the appointment of a new head coach, but having asked a few questions, my understanding is that there aren't actually many high-profile candidates in contention.
Gary Kirsten, who enjoyed such success with India and South Africa, has not applied for the role and neither have Paul Farbrace, Ottis Gibson or Stephen Fleming.
In many ways, it is a great time to be taking over. Although the new coach will not be able to select Kevin Pietersen - and it was interesting to see Kirsten making Pietersen his captain at Delhi Daredevils - they have a chance to stamp their authority on the team and steer it in their own direction.
You only have to look at the experience of David Moyes at Manchester United to see how much harder it can be to take over from a successful regime when expectation levels are so high.
For most of these top-level cricket coaches, however, the choice is a no-brainer. Why would they want to slog around the world for 12 months under the spotlight with England when they can just knock off an Indian Premier League season and earn about the same amount of money?
This is the stark reality in modern cricket and you can see why the England job isn't attracting the calibre of coach that perhaps it once did.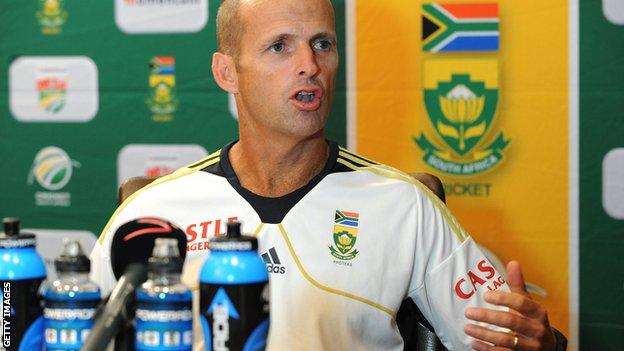 In the absence of a seasoned international coach, successful county coaches such as Lancashire's Peter Moores - a former incumbent - and Mick Newell at Nottinghamshire have thrown their hats into the ring, but I see Ashley Giles as the favourite.
That may surprise some people, given that his record as England's limited-overs coach is poor, but he can rightly point to the caveat of almost never having his strongest players available for selection.
What has pleased me is the spirit of the team out here in Bangladesh, where they have fought very hard in all three matches. They were very unlucky against New Zealand, produced a brilliant run chase to defeat Sri Lanka and put up a great effort against South Africa when in the past they might have folded.
We have also heard several of the players saying how much they enjoy working under Giles.
Of course, they are bound to say that because he is their boss at the moment and better the devil you know, but the people I've been speaking to are pretty genuine characters and they are hoping he gets the chance to do the job his own way.
As far as the captaincy is concerned, I wrote before this tournament that I thought it was an opportunity for Stuart Broad to show his credentials as a viable alternative to Alastair Cook, and I don't think he has let anybody down.
One or two people have criticised him for not bowling all his overs, but the reality is that he has been battling a serious knee problem and simply didn't back himself under that sort of pressure when he wasn't fully fit.
Similarly, there was one report on Sunday suggesting Broad was thinking of resigning as captain. That is not the case, and neither should it be.
Trying to keep control of a Twenty20 game that is rushing around all over the place is very difficult and he didn't do anything wrong as far as I was concerned. You can set fields for people, but if they don't bowl in the right place they are going to get caned, particularly when there is a batsman like AB de Villiers, who played a magnificent innings yesterday.
Broad badly needs a rest now, to clear his head and get his knee sorted, and it may be that we don't see him again until the Test series against Sri Lanka in June.
Whether we see Jade Dernbach in an England shirt again is rather more doubtful, given that he once again leaked runs at an alarming rate. I think this has happened too often for Dernbach and the selectors will have to move on.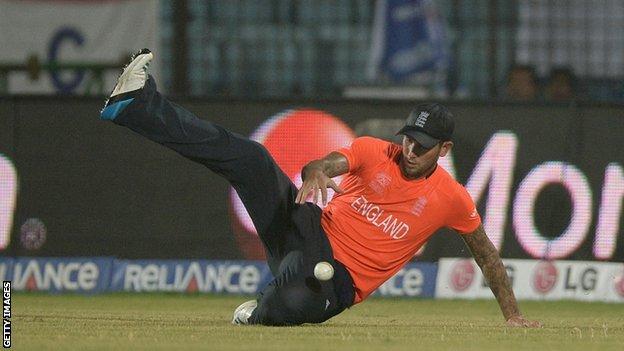 Other members of the Twenty20 squad hinted at bright futures, especially Alex Hales. The powerful opener did not have a good season for Nottinghamshire last year but he now has a great opportunity to knuckle down and cement a place in England squads for both one-day and T20 cricket.
I also like the look of Moeen Ali, who may even be pushing to open the batting in the England Test team should the selectors decide to move on from Michael Carberry.
Meanwhile, the wicketkeeping position will be widely talked about at the start of the summer, with Jos Buttler looking to press his claims to replace Matt Prior in Tests.
Buttler has been pretty reliable behind the stumps and can be explosive with the bat, but whether he has done enough to usurp Prior I'm not sure. I suspect Prior will feel that if he gets some runs for Sussex at the start of the season there's no reason why he shouldn't get back the place he lost to Jonny Bairstow for the last two Ashes Tests.
It all adds up to a really exciting start to the domestic season, with lots of interesting talking points.
England have hit rock bottom, and watching how they go about clawing their way back up should make for compulsive viewing.
Jonathan Agnew was speaking to BBC Sport's Sam Sheringham