England defeat by Netherlands raises serious questions

By Jonathan Agnew
BBC cricket correspondent
Last updated on .From the section Cricket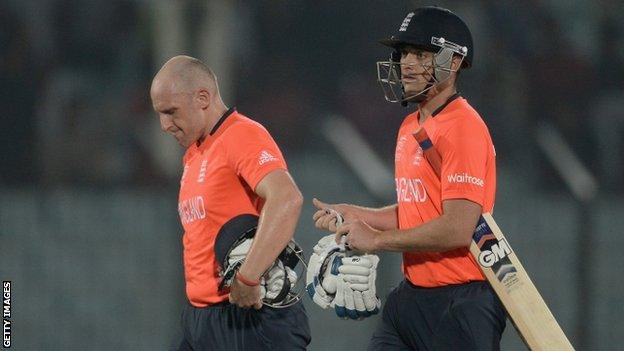 England's shambolic performance against Netherlands at the end of a horrible winter raises serious questions about the state of the team and where they go from here.
But before I analyse their latest low, I must pay tribute to the Dutch, who thoroughly deserved their 45-run victory.
Peter Borren's team should have beaten South Africa, and they did the basics right against England, held everything together and were comfortably the better side. To defend a below-par total of 133-5 and win by such a resounding margin was a superb effort.
England were simply dreadful, and it was galling to hear coach Ashley Giles and captain Stuart Broad putting the display down to complacency.
What on earth have this team got to be complacent about? They can be naive, they can be inept, they can have a shocking day at the office, but certainly should not be complacent. If that really was the case, then there is a serious issue here.
It was only yesterday that Giles said it would take some really hard work to pick England up from where they were, so if he's now suspecting that players are getting complacent then those players shouldn't be playing any more.
When you take on the associate nations you have to be ruthless, just as Sri Lanka were when they bowled out the Dutch for 39.
If you are a fully-fledged Test nation of professional cricketers, you have to go out there and show them how the game is played.
That is not patronising, it is simply the attitude you must have as an established team. You mustn't be tentative, you mustn't call it a "banana skin" as Giles did before the game, and you mustn't feel threatened. You have to go out there and blow them away.
Instead, England were timorous and tentative as they started slowly with the bat and handed the initiative to the Dutch. And once you are four or five wickets down in this form of the game, it is very hard to pull it back.
Twenty20 cricket is designed to make it easier for unfancied teams to win, but 45 runs is a massive margin and it really was a very poor performance.
So where does this leave Giles? Will the England and Wales Cricket Board brush aside the defeat and look to draw a line under a disastrous winter? Or will they feel they cannot go on without changing something - and look for a new man to take over the team?
Whatever they decide, people must realise that a coach can only do so much. You can't just click your fingers and expect everything to be all right.
We spent most of the 1990s asking what was going wrong with English cricket, but the current disarray is almost unprecedented.
There is no head coach and people are questioning the captain's position. We don't know who is going to open the batting or bat at number four, let alone who should keep wicket or bowl spin.
These are serious questions to which England have got to find answers - and they must find them quickly so they can begin to move forward.
To end on a hopeful note, it is not so long ago that England did manage to get themselves out of a mess of their own making.
Back in 2009, captain Kevin Pietersen and coach Peter Moores departed on the same day before the team were bowled out for 51 by West Indies. When they then lost a Twenty20 match against Netherlands at Lord's, they were a laughing stock. By the end of the summer, however, they had won back the Ashes and were the toast of the nation.
These things can turn around quickly, but only if the right decisions are taken and people pull together. There is certainly no room for complacency.
Jonathan Agnew was speaking to BBC Sport's Sam Sheringham