Steve Harmison: Ashley Giles is the best choice as England coach
Last updated on .From the section Cricket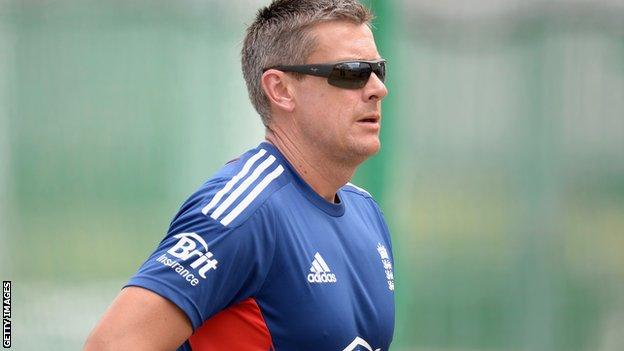 Steve Harmison says Ashley Giles is the best of the contenders for England's new head coach role.
His management style has also come under fire from Michael Carberry, but Harmison thinks he is the best option.
"Ashley Giles is a better candidate than all of them put together," said the former England fast bowler.
Other leading contenders for the position include former South Africa and Australia coach Mickey Arthur, ex-Worcestershire and Australia all-rounder Tom Moody and current Lancashire coach Peter Moores, who coached England from 2007 to 2009.
"Who really wants this England job?" asked Harmison. "The only names that have come out and said they do want it are Mickey Arthur and Tom Moody.
"I would take Peter Moores, potentially, but the rest of them - I'm not being disrespectful - Ashley is better."
Andy Flower quit as Test coach following England's 5-0 Ashes whitewash against Australia and the England and Wales Cricket Board (ECB) announced they would return to one coach for all formats of the game.
Giles has been England's one-day international and Twenty20 coach since Flower stepped down from the shorter formats role in 2012 to focus purely on the Test side.
Harmison, 35, accepts England's defeat by the Netherlands was a "shambles" but says results under Giles have been hampered by the unavailability of key players.
"Ashley Giles has been coach of the one-day squad for the last 18 months and he has never really had a full complement to pick from," said Harmison, who retired from cricket at the end of last season.
"How many times did he have Kevin Pietersen? Very few. Graeme Swann? Missing. Ben Stokes? Missing. Joe Root? Missing. All this comes into the melting pot."
Despite the support of former team-mate Harmison, Giles has been criticised by Carberry, who opened the batting during the Ashes.
In an interview with The Guardian, the 33-year-old Hampshire batsman questioned the manner in which England players had been treated by their coaches and selectors.
"It's obvious that since the Ashes tour ended some very, very strange decisions have been made," Carberry said.
"I'm sitting here disappointed I'm not involved in the one-day set-up. I seem to have been left out for some unknown reason. The selectors haven't fronted up and spoken to me."
Carberry said he had spoken briefly with Giles during the fifth ODI in Adelaide in an attempt to find out why he had been overlooked for the one-day series in Australia.
"His response was that he didn't really know," Carberry said. "If you don't know mate, I sure as hell won't know."
Former England wicketkeeper Geraint Jones, part of the 2005 Ashes-winning teams, agrees with Carberry's assessment of the England set-up.
Jones told 5 live: "I can understand his feelings and it's been that way for quite a while.
"Once you're not in that bubble of the England team, that's it, they move on very quickly and you're left on the outside."
Former ECB chairman Lord MacLaurin told BBC Radio 4's Today programme that the "whole winter has been a complete disaster".
He added: "Would I give Ashley Giles the job? No, I wouldn't."