Matt Prior motivated to win back England place - Mark Robinson
Last updated on .From the section Cricket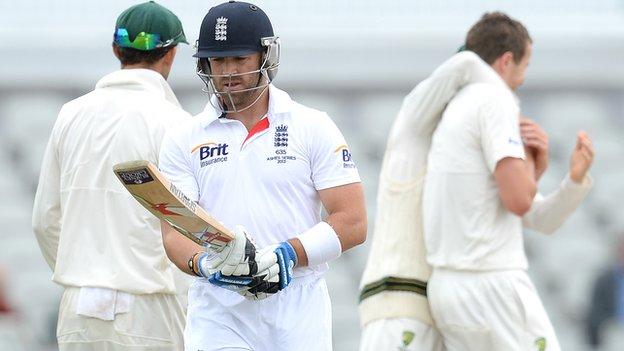 Sussex coach Mark Robinson believes Matt Prior's desire to reclaim his England place will benefit the county at the start of the summer.
The 32-year-old wicketkeeper-batsman was dropped in favour of Jonny Bairstow in the final two Tests in Australia.
"He has been given a chance to get off that treadmill, which has been relentless," Robinson told BBC Sussex.
"It is exciting to have him back when he is like he is at the moment. He is motivated and working really hard."
Prior, who was voted England Cricketer of the Year for 2012-13, struggled for form with the bat during the winter Ashes tour, making only 107 runs in three Tests at an average of 17.83.
The South Africa-born keeper had played in 60 consecutive Tests for England, stretching back to 2009, before being replaced by Yorkshire's Bairstow.
Robinson said Prior's attitude had been impeccable since his return for pre-season at Hove and he is convinced that he will return to the international stage.
"I have full sympathy for the England players because sometimes they come back and they can be a bit jaded mentally and physically," he continued.
"Sometimes they come back carrying injury or some scars, having had a bad experience. Matt has had a break and has been willing to do everything from day one.
"He is integrated, we have had him for three or four weeks and he has been one of the blokes. He brings a wealth of experience and has a fantastic cricket brain.
"I tell him to make sure he doesn't look too far ahead. Matt is one of the best players in the world and I am sure very soon he will score the runs to get that England place back and we will not see him again in the rest of the summer."
Sussex skipper Ed Joyce is also thrilled to have Prior back in the fold ahead of their opening County Championship match at home to Middlesex, which begins on Sunday.
"A hungry man is a very dangerous player," the Irishman said.
"He feels that England is his team and he wants to get back into it. He feels like he needs to make a lot of runs.
"He is clearly a top-quality player and I wouldn't want to be playing against him early on in the season. I am glad he is in my team."