World Twenty20 2014: The secret of death bowling
By Sam Sheringham
BBC Sport
Last updated on .From the section Cricket76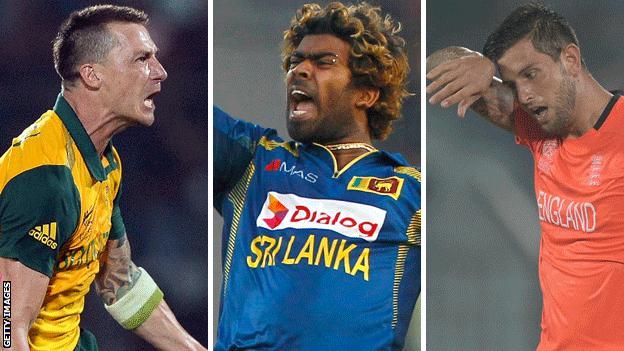 It is the ultimate test of a cricketer's nerve.
The final over of a Twenty20 match, your opponents are closing in on their victory target and you have six balls to make or break the game.
'Death' bowlers, who can produce the goods in the final stages of a limited-overs innings, have always been among the sport's most sought-after commodities. But the advent of Twenty20 cricket has driven their value off the scale.
With tight finishes commonplace, the team whose death bowlers can best dry up the runs are usually the one that comes out on top.
But what are the attributes that make a great death bowler? What type of deliveries are the most effective and how do you train your mind to execute those skills when the game is at its most pressurised?
We got the inside track from former international pace bowlers Dirk Nannes and Ian Bishop before asking Twenty20 specialist Owais Shah about the tricks a batsman can use to make sure he triumphs in the battle of wills.
'Do your homework'
The formula to successful death bowling begins with having plans in place before you enter the field of play.
"You have to do your homework," says Bishop, who took 118 one-day international wickets for West Indies and is working as a Test Match Special summariser at the World Twenty20 in Bangladesh.
"You have to know about who you are playing. For example, every time England's Jos Buttler comes in to bat they put fine leg back because they know about his scoop shot.
"If you don't think it through beforehand you are in trouble. I watched England the other day and they kept bowling a lot of slower balls on a slippery wicket. That is not the time to bowl a lot of slower balls. You've got to think on your feet as conditions change and the nature of the game ebbs and flows."

'High-risk'
You've sized up your opponents and hatched your plans, but what are the key deliveries to have in your locker in order to rein in a rampant batsman?
Sri Lankan death specialist Lasith Malinga uses his low, slingy action to send down flurries of near-unplayable yorkers in the final overs.
However, Nannes, who was the leading wicket-taker at the World T20 in the Caribbean in 2010, believes that the risk of trying to crush a batsman's toes outweighs the reward.
"The fact is that the yorker is a very high-risk ball," he says. "If you stuff it up by six inches then it's a four or a six. So unless you are right on top of your game and able to nail them five times out of six, it's a pointless ball to try.
"Every type of ball should be an option - it's just the time that you bowl them and who you bowl them to.
"If you've got a new batsman on strike, bowling length outside off stump is great because it is very hard to get a bat on it. But if you try to bowl a yorker and he gets any bat on it, then you bring the more established player on strike."
Top 5 death bowlers since April 2010

Player

Team

Balls

Dot Balls

Wickets

Economy

Shaun Tait

Australia

64

29

6

6.09

Ashok Dinda

India

60

28

13

6.30

Sunil Narine

West Indies

106

51

11

6.40

Dale Steyn

South Africa

156

60

14

7.23

Mohammad Amir

Pakistan

60

23

7

7.90

Minimum 10 overs in last four overs of an innings. Source: Opta
'The X-factor'
Traditionally, death bowling was the realm of the fast bowler, with medium pacers and spinners considered far too likely to be carted out of the ground.
But, increasingly, 'mystery' spinners with a range of deliveries at their fingertips are proving to be Twenty20 match-winners.
West Indies' Sunil Narine, who bamboozles batsmen with his armoury of carrom balls, doosras - both particular types of spin deliveries - and conventional off breaks, has the third-best economy rate in the final four overs of T20s between Test nations in the last four years, according to Opta.
Pakistan off-spinner Saeed Ajmal, meanwhile, has more wickets (32) than anyone else.
"Whatever type of bowler you are, you have to have a bit of an X-factor to bowl at the death," adds Nannes.
"You have to have out-and-out pace or good tricks - something that sets you apart from the others so it's not all same, same.
"You have to have very good execution, to be all over your skills."

Too often in recent times, England have found their death bowlers' skills deserting them when they are most needed.
In fact, England's most regular death bowlers since they won the World T20 in 2010 - Jade Dernbach and Tim Bresnan - are the bottom two names in the table with economy rates of 10.28 and 11.02 respectively.
Worst 5 death bowlers since April 2010

Player

Team

Balls

Dot Balls

Wickets

Economy

Tim Bresnan

England

147

38

9

11.02

Jade Dernbach

England

280

90

21

10.46

Kyle Mills

New Zealand

115

27

4

10.28

Dwayne Bravo

West Indies

136

37

12

9.79

Nuwan Kulasekara

Sri Lanka

135

37

10

9.69

Minimum 10 overs in final four overs of an innings. Source: Opta
'Think on your feet'
It is one thing having a full range of deathly deliveries at your disposal, but quite another to be able to deliver them when the batsman at the crease has got his eye in and a feverish crowd are willing him to hit you out of the ground.
"You have to be intuitive to know when to serve up which ball," says Bishop. "It's no point having those variations but serving them up at the wrong time.
"You have to have mental toughness. You are going to come under pressure, you are going to lose a few battles so your ability to come back from game to game is critical as well.
"My West Indies team-mate Curtly Ambrose had that mental fortitude. When the game was on the edge, he wanted to bowl and I can only recall once over the course of my career when I saw him get taken apart at the end of the innings."
Nannes, whose searing pace makes him ideally suited to the short bursts required in T20 cricket, says he always tries to stay one step ahead of his adversary.
"You think in between each delivery," he says. "You just need to be able to control your mind and bowl the ball where the batsman is not expecting it and where the percentages are in your favour.
"Generally speaking, when a batsman moves you see it before you bowl and have time to adjust. Earlier on in my career, I would always follow people, so if they moved outside leg I would chase them. But now I generally tend to go away from the batsman when they start moving so they are stretching to reach the ball."
'A funny game'
With such small margins in Twenty20 cricket, often the difference between success and failure is down to fortune.
"Twenty20 is a funny game," says Nannes. "You can bowl really well and get smashed; sometimes you can bowl badly and get wickets.
"My best figures in T20 were 5-40 at Lord's but I got absolutely smashed. It was the worst I have ever bowled on a cricket pitch but I just got lucky.
"Two years ago in the IPL in Bangalore, AB De Villiers smashed 24 off an over from Dale Steyn. It wasn't a case of Steyn losing his head, it was just unbelievable batting. Some days you get that. You bowl a couple of good balls that are inside edged for four, then a couple are hit right out of the screws - and you look like an idiot."
The batsman's view
Owais Shah earns a living out of making bowlers look like idiots.
These days, the former England batsman is a Twenty20 gun for hire, turning out for teams in India, South Africa, Bangladesh, Australia and New Zealand, and he prides himself on knowing a bowler's foibles before he walks to the crease.
"I make a point of trying to find out little bits of information about bowlers that you can use to your advantage. What are their little triggers?" he says.
"Do they look at the stumps? If so, I'll try to stand in front of the stumps. Do they want to bowl at my feet? If that's the case, I'm going to move around and make it as hard as possible for them to bowl yorkers.
"People talk about those one per centers at the top level. That is the kind of one per center you can use to your advantage.
"Sometimes you can tell when a bowler is under pressure: their body language is not right, their run-up is not right, they are panicking about fields," he says.
"You know you've got them and that is an amazing feeling. You know you are about to do something very special and you have 50,000 people watching."
Additional reporting by BBC Radio 5 live's Tim Peach