Glamorgan head coach Toby Radford hails winning start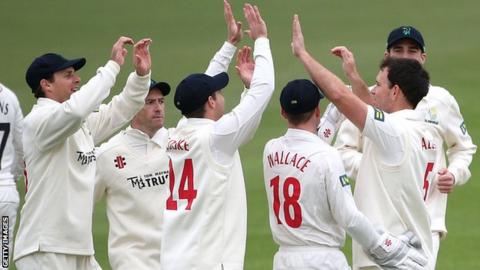 Head coach Toby Radford has praised Glamorgan's bowling attack following their County Championship Division Two win against Surrey.
The Welsh county won their opening championship match of the season for the first time since 1998.
They thrashed Surrey by 10 wickets at the Oval with seam bowler Graham Wagg taking a career best 6-29 in the second innings.
"It was almost the perfect start for us," Radford said.
Surrey resumed on 50-2 on the final day, but collapsed to 81 all out as Wagg (6-29) and Michael Hogan (4-31) bowled superbly.
Then opening batsmen Gareth Rees (75 not out) and William Bragg (72 not out) eased the visitors to a 10-wicket victory.
"They had a couple of wickets down and we said 'attack them and see if we can get early wickets'. It was just like the perfect day," Radford added.
"Graeme Wagg bowled well in the first innings and followed it up again [on Wednesday] morning.
"I thought Michael Hogan found a better rhythm in the second innings.
"Then for Will Bragg and Gareth Rees to go and bat the way they did and finish it off in style was absolutely superb."
Glamorgan will look to build on their win over Surrey when they host Gloucestershire in Cardiff, starting on 20 April.
They will have South African batsman Jacques Rudolph available for their second game of the season.
Rudolph missed the game against Surrey as he was talking part in the Iron Man South Africa event.
"We hope he's going to be in good shape but he'll add experience to this squad, obviously he's an international player," Radford said.
"[We're] really looking forward to having him on board."