Kumar Sangakkara possibility excites Durham coach Jon Lewis
Last updated on .From the section Cricket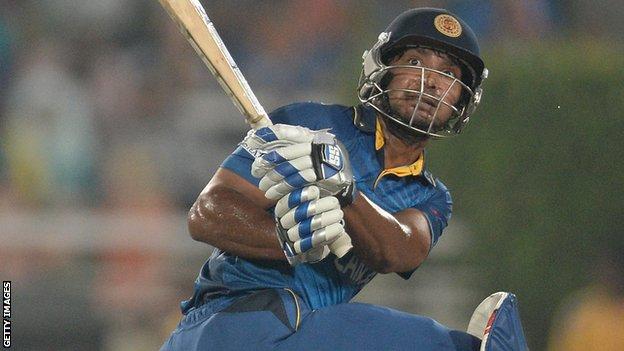 Head coach Jon Lewis says Kumar Sangakkara would be a "tremendous" addition for Durham, amid reports the wicketkeeper-batsman will join the county champions on a short-term basis.
Durham are understood to be in advanced negotiations with the player, but Lewis would not confirm a deal had been done.
Sangakkara, 36, won the World Twenty20 title with Sri Lanka this month.
He is set to feature in May's one-day series against England and could play in three Championship fixtures.
Former law student Sangakkara, a left-handed batsman, has been one of world cricket's most consistent players.
He has won numerous awards, among them the International Cricket Council's Cricketer of the Year and Test Cricketer of the Year in 2012.
Lewis told the Northern Echo newspaper: "I can't think of a better player in the world who is not involved in the Indian Premier League."
Sangakkara also had a stint with Warwickshire in 2007 and was due to feature for Lancashire in 2010 but never made an appearance.
Durham as an overseas player for the 2014 season.