Kevin Pietersen will not earn England recall - Paul Downton
Last updated on .From the section Cricket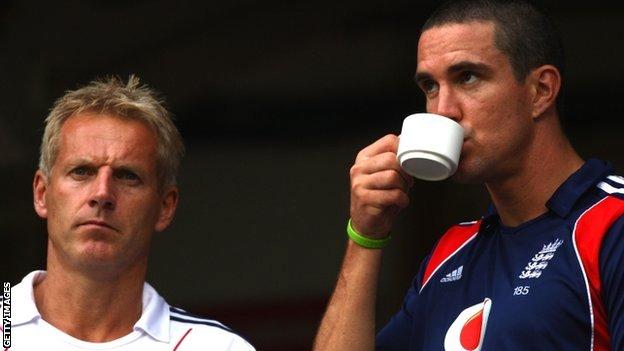 England managing director Paul Downton says there is no chance Kevin Pietersen will be recalled to the England set-up under new coach Peter Moores.
Downton said there was no "smoking gun" that led to Pietersen's dismissal, adding: "The sooner we understand that Kevin has had his time, the better.
"Pietersen had got disconnected from the team. I don't see any going back."
Former England wicketkeeper Downton was speaking in public about the Pietersen decision for the first time at the news conference to confirm Lancashire's Moores as England coach for the second time.
Moores's first stint was ended abruptly in January 2009 because of an impasse with then-captain Pietersen, which led to both losing their jobs on the same day.
Shortly before Saturday's news conference at Lord's, Pietersen, who is currently competing in the Indian Premier League, tweeted: "Everyone deserves a second chance!"
Whether Pietersen was referring to Moores, himself or both, is unclear, but Downton was firm in his insistence that England's highest international run-scorer would not be wearing the Three Lions shirt again.
"I arrived in Sydney [the venue for the fifth and final Ashes Test] on 31 December, and it was clear that there were two issues: Andy Flower's future and what we were going to do about Kevin," said Downton.
"I watched every ball of that Sydney Test match and I've never seen anybody so disengaged from what was going on.
"After the Ashes we spoke to all the coaches, several senior players and the chairman of selectors James Whittaker, and came to the conclusion that if England were going to rebuild we had to make a decision, rebuild not for the next three months, but two years, three years, five years.
"We had to invest in new players, build a new team with some core values and it was decided that wouldn't happen with Kevin in the side.
"What you see on either side of me [Peter Moores and captain Alastair Cook] is the future of England cricket and I don't see any intention of going back."
The England and Wales Cricket Board is yet to reveal specific reasons for Pietersen's sacking, owing to a confidentiality clause.
But Downton added: "People have been looking for a smoking gun but there were no specific issues with Kevin.
"We had a strong side over 10 years with strong leadership and established captains and coaches, and that side could accommodate Kevin, but that balance has shifted now," Downton said.
"A new side won't accommodate Kevin. It's about the balance of what is best for England."
Since Pietersen's last England appearance in the Sydney Test in January, England have lost five of eight one-day internationals and eight of 10 Twenty20s, culminating in a group stage exit from the World Twenty20 in Bangladesh.
Moores said it was "impossible to say" whether his job would be easier or harder without Pietersen in the team, but sought to clarify the circumstances of their dispute five years ago.
"I never fell out with Kevin, Kevin fell out with me," he said. "I moved on quickly and was lucky, in that I went to coach a great club.
"It's time to look forward rather than look back."