Jonathan Agnew: Peter Moores a good fit for new-look England

By Jonathan Agnew
BBC cricket correspondent
Last updated on .From the section Cricket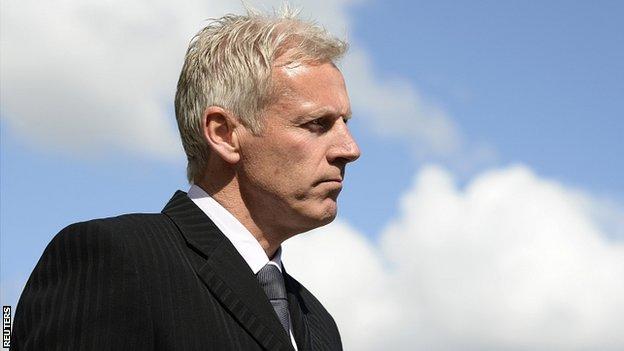 They say in sport that you should never go back but I think the landscape has changed sufficiently for Peter Moores to make a success of his second coming as England coach.
Unlike last time, Moores is not inheriting a squad full of senior players who are likely to question the authority of a man who was not a successful international cricketer.
And crucially, he does not have to contend with a captain who does not rate him and is trying to move him on.
Instead, Moores is taking on an England team in transition, with ambitious, hungry players coming in and looking to establish themselves as international players.
The dead wood is gone and he is starting again, and that as a coach can be a very good place to be.
Moores, therefore, has the chance to impose himself while showing that he has learnt the lessons from last time when, according to the testimonies of Michael Vaughan and Graeme Swann, he had quite an overbearing and authoritative approach.
Looking back, I'm sure Peter will see that as an area where he could have done things differently, but perhaps he went over the top in an effort to prove himself because he didn't have a celebrated playing career to fall back on.
This is not something that should count against Moores. As football and rugby have shown often the best players do not make the best coaches.
You don't have to be a record-breaking run scorer or a serial Test wicket-taker, you just have to be able to understand the game and get the best out of the players you have.
In his first news conference, Moores repeatedly used the word "togetherness", and it was interesting to hear managing director Paul Downton offering a little more insight into why Kevin Pietersen was such an obstacle to that unity.
Downton said he had never seen a player as "disengaged" as Pietersen was during the final Ashes Test in Sydney and talked about rebuilding a team with "core values".
In the present predicament, Downton said, England simply cannot afford to have anyone who has not entirely bought into the team and what they are trying to achieve.
But I very much doubt that Downton's words will put the debate to bed. Even today, Pietersen sent out a tweet saying that "everyone deserves a second chance", and I have even seen the suggestion that the England and Wales Cricket Board only sacked him in order to reinstate Moores.
Ridiculous as that claim is - I am convinced Ashley Giles was in line for the job until England's disastrous defeat by the Netherlands in Bangladesh - the only way that Moores will truly be able to shake off the Pietersen issue is by getting results.
And in order to get results, he is going to have find a way of coaxing the best out of Alastair Cook as a player and a captain.
Cook's credibility took a real hammering during the winter and there were worrying signs that the pressures of leadership were having an effect on his batting.
The problem for Cook is that he had very little captaincy experience when he was appointed and is therefore having to learn on the job. He has been busy scoring thousands of runs for England, rather than captaining his county, which is what previous generations of England captains were able to do.
Cook is naturally cautious, so you would imagine that Moores will have to be more bullish than he has been before to ensure that England play a positive brand of cricket that moves the game forward.
One factor that could benefit both Moores and Cook is the probable appointment of Sri Lanka coach Paul Farbrace as assistant coach.
This is a new venture for England. They have had batting coaches and bowling coaches, as well as head coaches for different forms of the game, but this is the first time they have had an official number two.
I spoke to Paul recently and he assured me he hadn't applied for the England job, so he has clearly been head-hunted as the man they want to work alongside Moores and take the team forward.
He is young in terms of coaching experience but this is a good step up the ladder for him and should help Moores contend with the enormous workload that being England coach across all three formats entails.
The relationship between the coach, his assistant and captain will be crucial to whether England's new start is a successful one and it will be fascinating to see how they get on.
Jonathan Agnew was speaking to BBC Sport's Sam Sheringham