Peter Moores: England's returning coach 'owes a lot to Lancashire'
Last updated on .From the section Cricket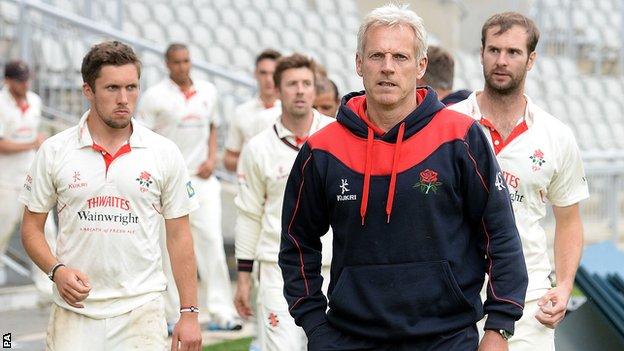 Peter Moores says he was grateful for the chance to bid a proper farewell to Lancashire before taking charge of England for a second time.
"It's been really nice to be here for one more game at Lancashire. I owe them a lot. It's been a great partnership," he told BBC Radio Lancashire.
Moores will now take control of the national team in all formats.
The former Sussex coach succeeds Andy Flower, who resigned following England's 5-0 Ashes whitewash in Australia during the winter.
Moores was initially dismissed from his position with England in January 2009 after a dispute with then-captain Kevin Pietersen, who is no longer part of the England set-up.
He was appointed as Lancashire coach later that year and, in 2011, guided the Red Rose county to their first outright Championship victory for 77 years.
The club were relegated a year later but sealed an immediate return to the top flight by winning the Division Two title in 2013.
It has also been a transitional period off the field, with the £45m redevelopment of the county's Old Trafford home completed last summer.
Moores continued: "It has been great fun. We've had some real highs and some lows, and we've been through it together as a club, not just a squad.
"I feel very privileged to have been part of what has been a huge period of change for the club. In that time, we've managed to win Division One, go down and then win Division Two.
"Mainly, we've developed a lot of young Lancashire players who have come through. It's exciting for the club that they hopefully will go on and have great careers and keep the club in a healthy state."