Ian Bell says England coach Peter Moores has learned from mistakes
Last updated on .From the section Cricket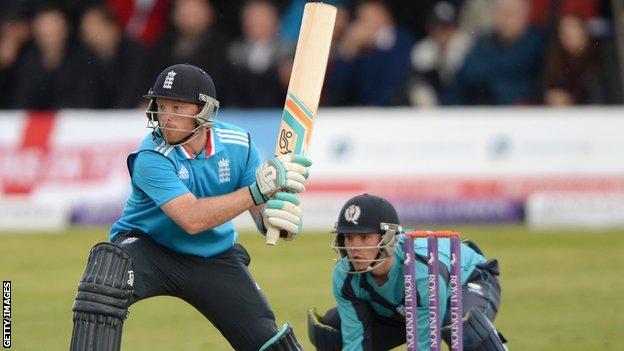 Ian Bell says new England coach Peter Moores has learned from the mistakes of his first spell in charge.
The England batsman, who scored 50 in a winning return for Moores as Scotland were defeated on Friday, added that the team would follow Australia's example to rediscover their best form.
"He probably understands international cricket a bit more," said Bell.
"He is a very good coach with really good qualities and I am sure he has learned from his mistakes."
The Warwickshire right-hander explained: "Australia have shown you can turn things round very quickly and we've got to believe that. There is a lot of talent in the dressing-room to do it but we need to get things right as quickly as we can.
"Maybe he will go away from looking at stats all the time and give us more responsibility."
The 51-year-old was first appointed England coach in 2007 but was sacked in 2009, having fallen out with Kevin Pietersen, who resigned from his role as captain, while Moores's management style also did not find favour with some senior players such as Pietersen's predecessor Michael Vaughan.
Moores returns following a terrible run of form saw England whitewashed 5-0 in the Ashes series by Australia and conclude their World Twenty20 campaign with an embarrassing defeat by the Netherlands.
Australia, who England defeated 3-0 in the home Ashes series of 2013, have since risen to the top of the ICC rankings in both the Test and one-day international formats.
Bell, 31, added: "In any sport the management can only do so much. If you look back at what happened in Australia, you can't the blame the coaches for what happened.
"The players have to take responsibility and we didn't do that. Hopefully he will give us the responsibility now to make amends for that."