Ed Joyce: Sussex have balance for T20 Blast competition
Last updated on .From the section Cricket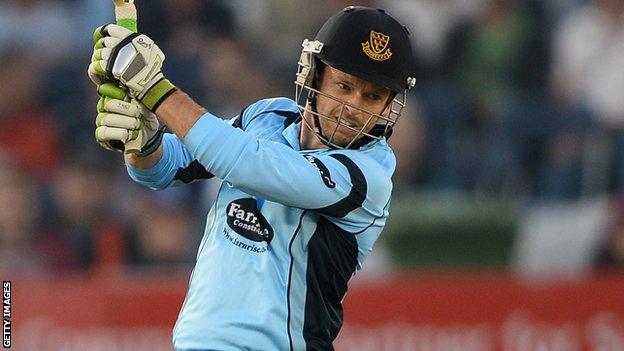 Captain Ed Joyce believes Sussex have a well-balanced side for the T20 Blast.
The Sharks begin their campaign at home to rivals Surrey on Friday before travelling to Middlesex on Saturday.
"We feel we have the makings of a pretty good team and have a few more bases covered than we perhaps did in the past," Joyce, 35, told BBC Sussex.
"Yasir Arafat will fulfil a role we haven't had for a couple for years, bowling at the death. That is a comforting thought."
Sussex have been in good form in the County Championship so far this season, winning two and drawing two their opening five games.
The Twenty20 tournament has been revamped for 2014, with fixtures running alongside the four-day campaign rather than in a separate block of fixtures as in previous years.
Most T20 matches will take place on Fridays and at weekends, resulting in multiple switches between formats.
"It's a good time to have it," Ireland international batsman Joyce added.
"We've had five Championship games and there are a few weary legs, especially among some of our seamers.
"Some of them might get a break now as we have a few specialists to come in, including Yasir, Chris Liddle and Rory Hamilton-Brown. Stef Piolet is a good Twenty20 player and will come into the reckoning.
"It'll be nice to get a few full houses and a bit of excitement and energy around the place - not that that's not here for four-day cricket, but it's just a different buzz and everyone enjoys the Twenty20 format."
Traditionally strong performers in T20 competition, Sussex finished bottom of their group in 2013 after losing nine of their 10 matches in the southern division.
Joyce hopes they are able to make a solid start to the tournament at Hove on Friday.
"Fundamentally it would be nice to get a win early on as Twenty20 is all about momentum," he said.
"Surrey are local rivals, along with Hampshire, and everyone likes to beat them as they are perceived a big club.
"They always make big signings and it would be good to get on the board against them.
"Surrey will have a very good team and it should be a good contest."