Steven Finn: Middlesex bowler confident for T20 Blast
Last updated on .From the section Cricket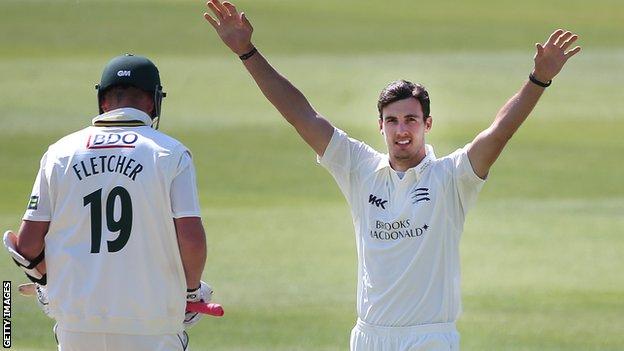 Middlesex bowler Steven Finn hopes he can take his early-season Championship form into the T20 Blast campaign.
"It's always nice to have wickets under your belt, whatever format of the game it is in," he told BBC London 94.9.
"To have wickets gives me confidence. The best bowlers are able to transfer their skills across formats."
Finn, who has played 23 Test matches for England, has taken 29 wickets for Middlesex so far this season at an average of 20.72.
The Watford-born right-armer has taken 25 wickets at an average of 19.48 in his 18 Twenty20 international appearances, with an economy rate of 7.16 runs per over.
Finn is hopeful of making an impact when the Lord's side begin their T20 campaign on Saturday.
"I've always enjoyed playing for Middlesex, whether playing solidly like I have this season or coming back from England," he said.
"Twenty20 has gone both ways for me at times but it is exciting.
"The game is still played over 22 yards and the ball is the same size and the same weight.
"There are different skills you need for Twenty20 cricket and we have been practising those. Practice in the nets will give me the confidence to go out and bowl well.
"My job, if I play, with the new ball is to hit a good length hard.
"Towards the back end of the innings there are obviously different skills which come into the equation, with slower balls and yorkers, but with the amount of overs I have bowled this year and the rhythm I have got coming to the crease, it should stand me in good stead."
Middlesex begin the group stage with a unique double-header, hosting both Essex and Sussex on Saturday, with the games getting under way at 12:00 BST and 16:00 BST respectively.
Australia all-rounder Dan Christian is eligible for the whole of the group stage, while Eoin Morgan, who was appointed as Middlesex's one-day captain in February, is relishing the prospect of starting their campaign with two home matches.
"From a player's point of view it will be a big challenge, coming from Championship cricket into T20," England international Morgan, 27, told BBC London.
"It is the challenge faced by a modern-day cricketer and one you look forward to. If you rise to these sort of occasions there is no reason you can't do it at a higher level.
"Lord's has been a bit of a fortress this season and having the advantage of playing in the conditions in the first game will hold us in good stead for the second game, regardless if we win or lose the first game.
"Sussex and Essex are very competitive sides who are usually always in the mix. This division has been very tough and sides that have gone through have gone all the way.
"If we can turn one or both teams over it will be a great day and a great start for us.
"For me it is a very proud moment, captaining a club I have grown up loving and had the privilege of playing for, for a long time.
"Using my experience I have learnt over a few years and putting it into action on Saturday will be exciting."