Moeen Ali and Wasim Khan on tape-ball and English cricket

By Joe Wilson
BBC News sports correspondent
Last updated on .From the section Cricket
One of the most influential men in grassroots cricket in the United Kingdom believes there has been a "sea change" in attitudes towards inner-city cricket.
Wasim Khan, the first Britain-born professional cricketer of Pakistani descent, says the England and Wales Cricket Board is actively seeking out talent in urban areas that are often socially deprived and ethnically mixed.
"People think we can't keep ignoring a group of people who have got an absolute passion for the game, who are perhaps unorthodox cricketers but talented," he told BBC Sport.
"What we're seeing now is a sea change in terms of mindsets."
Part of the Warwickshire side that won the County Championship and Natwest Trophy in 1995, Wasim is now chief executive of the Cricket Foundation, a charity that runs schemes aiming to coach and organise games that appeal to young people in places that are not usually associated with the sport.
His work is part supported by the ECB and he insists the governing body is taking the challenge seriously.
At the Birmingham school I visited this week, boys, all of Asian origin, were playing tape-ball cricket in a caged playground roughly the size of three tennis courts.
The strategy was explained to me simply by one of the boys: "We block for a few balls, then slog it!"
But there is a route from here to international recognition, as England one-day international Moeen Ali has shown.
The school he attended is only 15 minutes away and the 26-year-old began playing cricket just the same way.
"I think barriers have gone," said Moeen, who has played three one-day internationals and six Twenty20s for England.

"When I was growing up, it was all about what school you'd gone to."
However, he thinks more can be done.
"Guys in these areas need to be looked at a little bit more," added Moeen, who now plays for Worcestershire after starting his professional career with Warwickshire.
"I know Warwickshire send people to schools, which is great, but we need to somehow keep pushing these boys and encouraging them.
"Sometimes for the Asian lad and the inner-city lad, we need to give them the confidence to be open and go into club cricket.'
There are clearly still issues. Two years ago, Usman Khan was a Birmingham-based spin bowler with aspirations of being a professional.
At 16, he was invited to the ECB's national performance centre in Loughborough, on the other side of the Midlands.
For Usman, it was another world.
"I didn't even know where Loughborough was at the time," he said. "You had to go for a weekend. I wanted to decline; I didn't want to be away from home for the weekend."
He did attend and was amazed by the facilities, but also felt like an outsider.
"They asked me what county I was from," he recalled. "I said I didn't play county cricket."
Usman is now a qualified coach but no longer thinks it is realistic to be a professional cricketer, opting to focus more on his education.
One lesson the Cricket Foundation's Street Chance project has learned in the course of its involvement with nearly 30,000 young people is to build on the cricket that is already being played.
So, in Birmingham, rather than pushing players into traditional clubs, they are trying to help existing parks leagues, sometimes trying to improve pitches or helping to pay the cost of hiring the facilities when local authorities put up the prices.
The man who could be priceless in all this is Moeen, who is open about and proud of his Muslim faith.
His long beard is the most visible sign of his commitment to Islam and he talks about wanting to be a positive role model for British Muslims.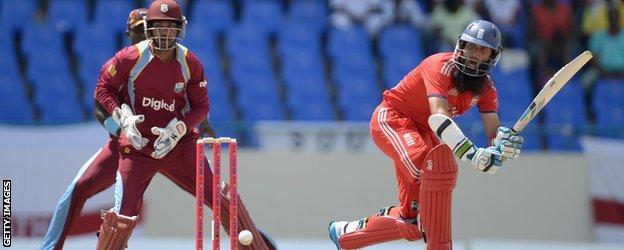 Wasim believes Moeen could be an inspirational figure this summer, especially in the inner city areas he works in.
"If you had spoken to people in these communities 20 years ago and asked them if they could ever see someone with a long beard walking out representing England they would have said absolutely not," said the former left-handed batsman.
"I think it epitomises the change that's happened. It's about talent and about getting the very best people playing for our country.
"Hopefully it won't be long before Moeen gets his first Test cap.
"Seeing Moeen walking out on English soil representing England at Lord's? That would be absolutely fantastic."