Ed Joyce: Sussex not the finished article in Twenty20
Last updated on .From the section Cricket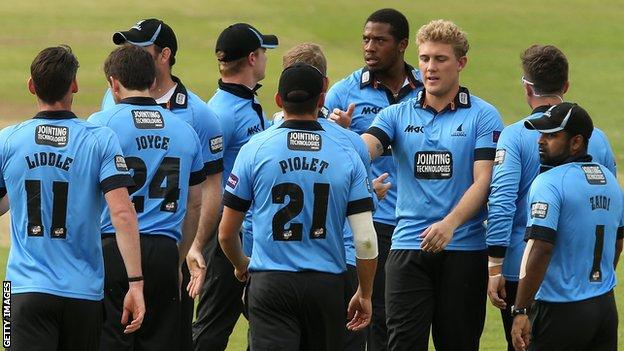 Sussex captain Ed Joyce says the side still have room to improve despite winning their first two matches in the T20 Blast competition.
The Sharks beat Surrey and Middlesex in their opening fixtures.
"We haven't really hit our straps yet but that shows we are a scrapping side and it is obviously a great start," batsman Joyce, 35, told BBC Sussex.
"We have got people not in the best of form but who are keeping their heads high and fighting out on the pitch."
The Irishman added: "The squad is in a really good place and is hard-working.
"We know we are not the finished article as a Twenty20 team but that is good knowledge to have as we know we have to scrap to win games.
"We haven't got too many world beaters but we fight for each other and will do that all through the competition, win or lose."
Sussex beat Surrey by two wickets with a last-ball victory on Friday night and followed that up by beating Middlesex at Lord's by 13 runs on Saturday.
Sussex managed to defend their score of 128 on Saturday, despite the fact Middlesex and Essex had scored 180 and 181 respectively on the same wicket earlier in the day in north London.
"We thought we were 30 or 40 runs short and it was definitely slower than the first game, which had big scores," Joyce said.
"We bowled exceptionally well, with Yasir Arafat and Chris Jordan setting the tone at the start. They were outstanding.
"We have a good bowling attack for slow wickets like that with Steffan Piolet, Michael Yardy, Will Beer and Rory Hamilton Brown doing a really good job."