Alastair Cook facing biggest challenge - Michael Vaughan
Last updated on .From the section Cricket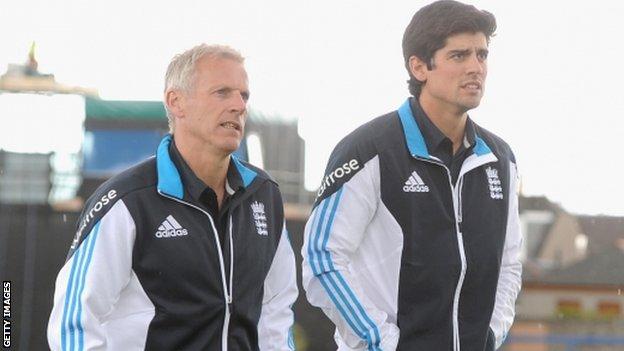 Alastair Cook is facing the biggest challenge of his captaincy as he looks to get England back to winning ways, says former skipper Michael Vaughan.
Cook, whose leadership was criticised on the disastrous Ashes tour, will oversee one-day and Test series against Sri Lanka and India this summer.
"Alastair will be excited but also very nervous," Vaughan told BBC Sport.
"The pressure is on him. Any failure, any disappointment will be jumped on by a lot of people."
Cook's captaincy began with England's first Test series victory in India for 27 years and a 3-0 Ashes victory on home soil in 2013.
But his reputation was scarred during a humiliating 5-0 Ashes whitewash and 4-1 defeat in the one-day series down under.
Cook kept his job following the tour but was influential in the decisions to discard star batsman Kevin Pietersen and batting coach Graham Gooch, his long-term mentor for Essex and England.
Head coach Andy Flower has also departed and been replaced by Peter Moores, who previously led the side between 2007 and 2009.
With the one-day series against Sri Lanka starting on Thursday, following Tuesday's Twenty20 international, Vaughan says fans will be looking for immediate signs of improvement.
"Even though he's won an Ashes and won in India, Cook will probably feel like this is a fresh start, what he's going to be judged on as an England captain," said Vaughan.
"He has made some tough calls. He has got rid of his best pal - batting coach Graham Gooch - although I believe it was a management decision and a Peter Moores coaching decision as much as Alastair Cook's.
"He has got rid of the man who has scored more runs for England than anyone else in Kevin Pietersen so, although the public will be behind him, there will also be more pressure on the England side.
"The combination of Cook and Peter Moores is going to be under scrutiny. We are all looking to see how they are going to come out and play.
"Moores has said he wants to excite the fans. We will see over the next few months whether that has changed."
Former England off-spinner Graeme Swann, who retired from international cricket after the third Ashes Test in Australia, said winning matches is the best way to get supporters back on side.
"Alastair Cook will be desperate for a couple of new heroes to emerge and really stamp their names on proceedings for the summer and become the new faces of English cricket," Swann told BBC Radio 5 live.
"The team did become a bit distant and disconnect from the fans so it is important to reengage that relationship.
"If no one turns up to watch no one is going to get paid. We need to play in front of full houses, we need to play exciting cricket, but most importantly we just need to win. Three or four wins at the start of this summer and all will be forgotten."