James Tredwell: Kent spinner working on four-day skills
Last updated on .From the section Cricket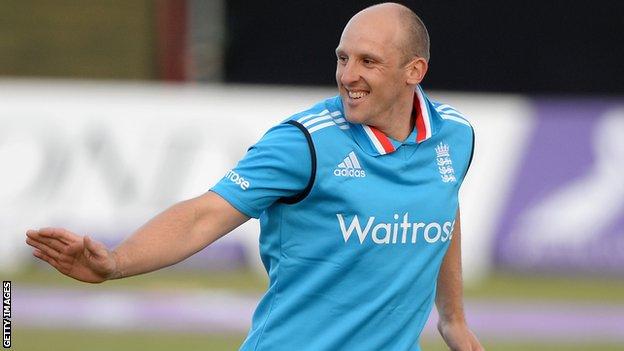 Spinner James Tredwell says spending time out of the Kent side will help improve his game in the long-term.
"I picked up a few habits from playing a lot of one-day cricket, not only over the winter but over the last two years really," Tredwell told BBC Radio Kent.
"To have a bit of time on my technique, which will hopefully aid me in all forms of the game, is beneficial."
Tredwell was Kent captain last season and took 17 County Championship wickets at an average of 56.76 for the Canterbury side in 2013.
The England international took match figures of 3-137 in Kent's 125-run defeat by Worcestershire in April and was subsequently replaced in the first XI by 22-year-old Riley.
"It is safe to say I didn't bowl as well as I would have liked at Worcester," Tredwell added.
"I think it was the right decision in that regard. Equally you want the best thing for the team.
"Riles came off the back of a nine-for against Sussex and is clearly bowling well.
"At the top end of the game you don't want to take the place of someone else who is doing really well or finding their feet at the top level. Sometimes that is the case.
"Whether you say it was a modest thing or I was dropped, you come across these challenges in your career and it's a hurdle you have got to come across."
Tredwell was a regular for England's one-day side over the winter and was given an incremental contract by the England & Wales Cricket Board in March.
He is set to be involved in the upcoming one-day series against Sri Lanka and believes being removed from Kent's four-day side was "probably a mutual thing" while he works on his game.
"I'm in the international team and I want to take care of that as well as perform to my best for Kent," he said.
"It has been nice to have time to myself and work to try and get things right.
"I think I've performed pretty well in one-day cricket over the last 12 to 18 months for England. Sometimes you have to employ different skills in one-day cricket than you do in four-day.
"Perhaps certain habits from playing one-day cricket tend to creep in sometimes and you have got to iron them out."