England v Sri Lanka: Eoin Morgan critical of English bowlers
Last updated on .From the section Cricket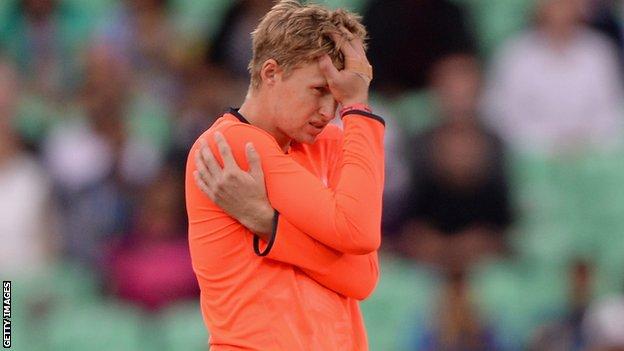 Captain Eoin Morgan criticised England's bowlers following the nine-run Twenty20 defeat to Sri Lanka.
The tourists set a target of 184 after hitting 61 from the final five overs of their innings at The Oval.
It proved to be too much despite Alex Hales's 66 from 41 deliveries and a rapid 28 from Ravi Bopara late on.
"Our bowling has let us down for quite a while," said Morgan. "We either get up there with the chase and just fall short, or set a good score."
While Nottinghamshire bowler Harry Gurney, making his T20 international debut after appearing in England's one-day international win over Scotland earlier in the month, restricted Sri Lanka to 26 runs off his four overs, team-mates James Tredwell and Chris Jordan went for 41 and 43 respectively off the same number of balls.
It was the third consecutive T20 outing where England have failed to reach their target, including the humiliating 45-run loss to the Netherlands in the T20 World Cup.
England have lost nine of their 11 T20 internationals this year.
"Our batting is quite strong - we bat all the way down - but it's just been disappointing that the skill level wasn't as high," said Middlesex left-hander Morgan.
Hales dominated England's reply, hitting seven fours and two sixes, but after Lasith Malinga had uprooted the opener's off stump the remaining batsmen fell short, with the Sri Lanka captain conceding just four runs from the innings' penultimate over.
"If it'd been an ideal run chase, we would have left 10 or 15 less to get off the other bowlers," added Morgan. "But we didn't get a partnership going with Halesy and that's what's let us down in the chase."