Boyd Rankin ready for Birmingham Bears' first game
Last updated on .From the section Cricket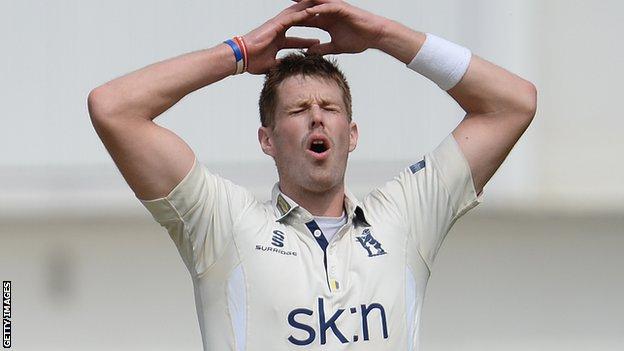 Birmingham will take centre stage at Edgbaston on Friday night when the latest, maybe biggest, marketing gimmick in English county cricket becomes a reality.
But, in fit-again Boyd Rankin, the Warwickshire, England and former Ireland fast bowler, there is still good reason to ensure that the talk at the game should, as always, be about the contents and not the packaging.
"I'm just pleased I don't have to go out there with a bat having to face him," Warwickshire director of cricket Dougie Brown told BBC Sport. "It must be horrendous. We're just glad he's back, fully fit and bowling like that. At his best, he is a formidable force."
Rankin will be part of the newly-christened Birmingham Bears, who will make their official bow in English cricket when, at, the home of Warwickshire, they launch their T20 Blast campaign at home to the Yorkshire Vikings.
It is a marketing move that has not gone down well with traditionalists, but then neither did coloured clothing, white balls, black sightscreens or Twenty20 cricket itself when it first arrived in England 11 years ago - or, come to that, the issue of international cricketers swapping countries.
Rankin did just that when he pledged his future to England last year, having already played for his native Ireland in many a one-day international.
And it did not go too well when the 6ft 8in injury-prone paceman limped out of his Test debut against Australia at the Sydney Cricket Ground in January, suffering from hamstring problems.
He had not been seen since until proving his fitness by bowling with frightening pace to take three wickets in the Bears' final T20 warm-up against Shropshire on Wednesday.
"Boyd gets the ball out of the wicket at an incredible speed and hits the bat incredibly hard," says Brown. "Having anybody like that has got to be an advantage.
"In the powerplay, it's a great weapon knowing that anyone's going to find it difficult trying to hit the ball back over his head.
"The likes of Curtly Ambrose and Courtney Walsh weren't bad exponents either. He's different to a lot of guys, six foot eight and delivering the ball from a great height.
"I don't think we saw the best of Boyd during the winter. When he played in that Test match, he was not fully fit. And it would be wrong to judge him on that performance."
A fit Rankin, intent on trying to nudge the England selectors again, is certainly a very handy asset for a Warwickshire side who start their T20 campaign without England's Ian Bell and Chris Woakes, at a time when they are already concentrating on easing Jonathan Trott back in slowly following a stress-related condition.
"There's another round of selections going on to the Test series against Sri Lanka," said Brown. "I'm guessing that Chris Woakes and Ian Bell will be involved but, as well as having Boyd back, it was great for us to see Trotty back out there fielding against Shropshire and Rikki Clarke isn't too far away after his broken finger."
After three consecutive years in which they have failed to make it out of the group, 11 years on from their one and only appearance in a Twenty20 final, Brown and his team know they have some catching up to do.
"The name change does not affect what we do on the field," said the Bears director of cricket. "It's still a tournament we're keen to do well in.
"We know we don't have a good record in terms of getting to finals day, but when it comes to reaching the quarter-finals, we have as good a record as any team. We just haven't been able to convert the starts we've had in the group stages.
"Twenty20 can be very unforgiving. If you get it slightly wrong, you have to pay the penalty. But we, as a club, have embraced it. We understand that 'upskilling ourselves' at this form of the game has a massive knock-on effect, not just for 50-over cricket but Championship cricket too.
"The energy and the skills that we can deliver when we're under pressure in Twenty20, if we can take them into other forms of cricket, that's great for us.
"We've not had any Championship cricket this week - and we've used the time constructively, to make sure we know the rules properly and prepare as best we can.
"You're never sure how you're going to get on in Twenty20 until it starts and you get on a roll. And it may not be so easy in that respect as it's now more spaced out over a longer period, playing most of the games on Friday nights."