Jonathan Trott returns to cricket in Warwickshire Twenty20 friendly
Last updated on .From the section Cricket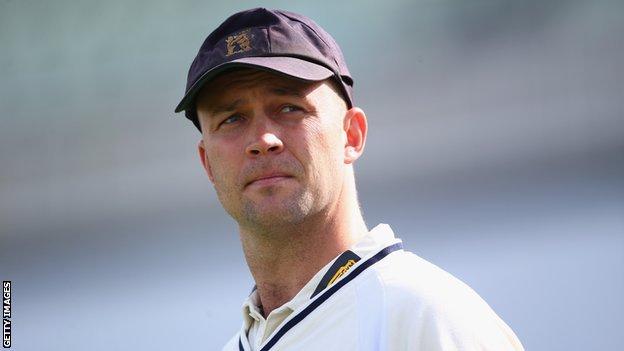 Jonathan Trott has taken a big step towards resuming his cricket career with his first appearance in five weeks for Warwickshire.
Trott fielded for the full 20 overs of their 97-run Twenty20 friendly win over Shropshire at Bridgnorth on Wednesday.
Warwickshire director of cricket Dougie Brown said: "He's just getting back into it and this was the right sort of place for him to do that."
Trott returned from England's Ashes tour with a stress-related condition.
The 32-year-old batsman played two first-class games for Warwickshire at the start of the summer, against Oxford MCCU and Sussex.
But after scoring 37 and 26 in the County Championship outing, he opted to take another break from cricket after a recurrence of the anxiety issues that forced him to leave Australia.
Brown told BBC Sport: "It was great to see Trotty back.
"We want a fully buoyant, enthused Jonathan Trott to come back into cricket as and when he's ready - and this was a good start in that process."