World Cricket League: Jersey select squad for Division Four
By Brent Pilnick
BBC Sport
Last updated on .From the section Cricket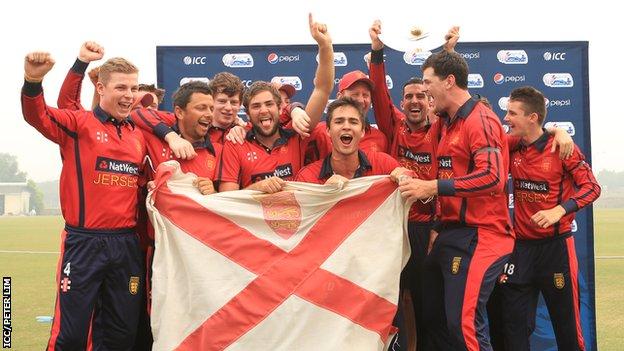 Jersey Cricket Board chief executive Chris Minty says the island side has a strong chance of success in next month's World Cricket League Division Four tournament in Singapore.
Jersey have made two changes to their with spinner Sam Dewhurst and seamer James Duckett coming in.
They replace Paul Connolly and Luke Gallichan in the island side.
"If we play to their potential we're going to have a strong side," he said.
"We've got to go into the tournament looking for promotion," Minty told BBC Sport.
"We know Denmark, we know Italy, we beat Malaysia twice this year, Singapore are similar to Malaysia, so the only unknown quantity is Oman."
Minty says Jersey's recent success in World Cricket League Division Five in Malaysia will stand them in good stead for the tournament in neighbouring Singapore.
They are basing their training camp in Malaysia and will play a warm-up game with a local side before moving onto the host nation.
And he says the island side has learnt a lot since their only previous time in WCL Division Four, when they were relegated after finishing fifth in Tanzania.
"We didn't know much about World Cricket League back in 2008 in Tanzania.
"We're better prepared than we have ever been so we'll be hoping for a good performance."
Many of the island's experienced players retired after the tournament in Tanzania, with youngsters at the time such as Ben Stevens, Anthony Hawkins-Kay and Dewhurst making their marks for the island at international level for the first time.
And Minty says 16 year-old Jonty Jenner, and 17 year-old Duckett, who will be making his tournament debut, show that island cricket is continuing on the right path.
"I've been saying for a while that our development scheme has been producing good cricketers for some time now.
"With the youngsters breaking into the national squad that indicates that our development programme over the years is working."
Jersey team: Peter Gough (Captain), Edward Farley, Ben Stevens, Anthony Hawkins-Kay, Dean Morrison, Nat Watkins, Andrew Dewhurst, Sam Dewhurst, Tom Minty, Charles Perchard, Jonty Jenner, Corey Bisson, James Duckett and Corne Bodenstein.