England: Kevin Pietersen denies claims he was 'uninterested'
Last updated on .From the section Cricket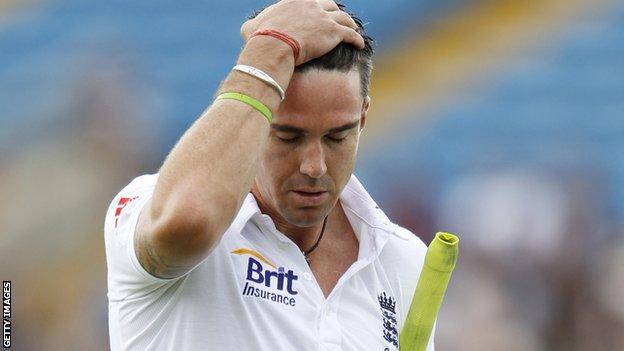 Ex-England batsman Kevin Pietersen has rejected claims he was "disinterested" during the winter Ashes series against Australia, saying he was "fully motivated" to play for his country.
Pietersen has released a statement in response to comments made by Paul Downton, the managing director of the England and Wales Cricket Board.
"The suggestion I was uninterested is wholly untrue," Pietersen said.
Pietersen, 33, is England's all-time leading run-scorer.
He was told he had no international future by the ECB in February, amid claims he had a negative effect in the 5-0 whitewash by Australia in the Ashes.
Downton, who was appointed as managing director of England cricket three months ago, was central to ending Pietersen's association with England.
Although silenced by a confidentiality clause at the time, Downton talked extensively about the reasons behind Pietersen's departure on Thursday during an interview on the BBC's Test Match Special.
He said: "I've never seen anyone as disinterested or distracted as Kevin; it looked very strange.
"I talked to every person on the management team and quite a few senior players, and I couldn't find one supporter who wanted Kevin to stay in the side."
Pietersen though, who scored 8,181 runs at an average of 47 in 104 Tests, in addition to 4,440 runs in 136 one-day internationals and 1,176 runs in 37 Twenty20s, released a statement on his own website in response to the claims.
He said: "Although I was having injections in my knee, which inhibited my mobility and thus my ability to field close to the wicket, I was fully motivated to play for England and whilst I accept that the series as a whole fell well below my own personal standards, I finished the series as the top scorer.
"I did, and continue to have a good relationship with most of the England players, which has been subsequently highlighted by a number of press interviews.
"With regard to the criticisms aimed at my "the way I play type attitude", I feel it's only reasonable to remind Mr Downton that this method has brought me more than 13,500 runs for England, in addition to being part of four Ashes-winning teams and a World T20-winning side, all of which are achievements I am hugely proud of."