Boyd Rankin: Warwickshire & England bowler had career doubts
Last updated on .From the section Cricket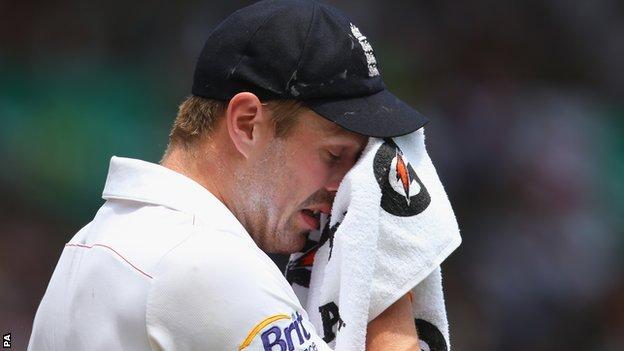 Warwickshire's England fast bowler Boyd Rankin says he questioned his own future after his injury-wrecked Test debut against Australia in January.
"I wasn't anywhere near where I wanted to be at Sydney," he told BBC Sport.
"I had a few questions when I first came back. It was a tough period."
Rankin only had the shoulder injury diagnosed by Warwickshire's medical team following a scan when he returned from Australia, on top of the hamstring problem that had affected him down under.
"It was still a special occasion for me, making my Test debut, but I did feel I let myself and the rest of the team down," the 29-year-old added.
"I was already struggling as I had torn half the cartilage off my shoulder in a fielding session we had a couple of days before the Test and then I also had a back spasm.
"I felt I had to play. I had to take my chance, but I don't suppose I did that, really. I'm sure a lot of people weren't impressed. And it's been tough coming back from that.
"You do a lot of thinking when you have that amount of down time. I have learnt a lot from that and it's made me a stronger person for it."
Having taken more than a month to be acclimatised back into the Warwickshire team this season, just in time for the T20 Blast campaign, Rankin has already made an impact.
He has taken three Somerset wickets on his first proper bowl in almost five months, in this week's County Championship game.
And Bears coach Dougie Brown has no doubts about the size of threat 6ft 8in Rankin still carries - as a fast bowler of raw pace.
"He gets the ball out of the wicket at an incredible speed and hits the bat incredibly hard," said Brown.
"He's different to a lot of guys, six foot eight, delivering the ball from a great height. The likes of Curtly Ambrose and Courtney Walsh weren't bad exponents either. Having anybody like that has got to be an advantage.
"When he played in that Test match, he was not fully fit. It would be wrong to judge him on that performance. I don't think we saw the best of Boyd during the winter."
Although his retreat from Australia was nowhere near as high profile as that of his Warwickshire and England team-mate Jonathan Trott, Rankin's has also taken time to recover. But his desire to succeed also remains just as fierce.
"I still want to bowl fast and I still want to knock people over," he added.
"It wasn't a great environment to be in. It was a really tough tour to be on. A lot of the lads were struggling. And the hardest thing was constantly bowling in the nets and not getting any game time. It would have been nice if there had been some match practice.
"If that is the only Test I play, then so be it. But I would never change what I have done. I've always said I wanted to try and play at the highest level and that is Test cricket.
"Now I've just got try to put in good performances, keep working hard for the Bears and hope the opportunity comes again."