Match-fixing: Vincent & Arif charges 'sicken' Sussex coach
Last updated on .From the section Cricket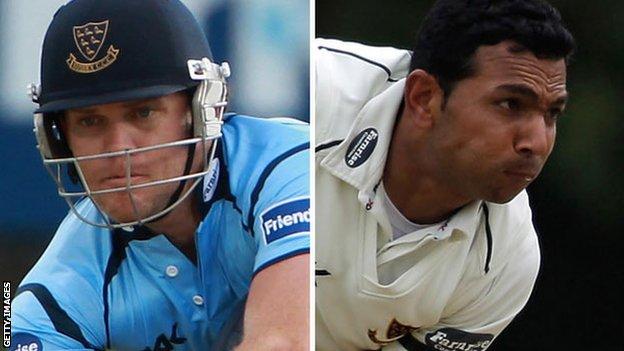 Sussex cricket manager Mark Robinson says he is sickened by the match-fixing allegations against former players Lou Vincent and Naved Arif.
The pair have been charged by the England & Wales Cricket Board in relation to two matches in 2011.
Robinson said: "The last few weeks have been upsetting. We are deeply shocked.
"The thought that someone isn't performing to their highest ability to try and win is sickening and disgusts myself, the players and the club."
Batsman Vincent, 35, has been charged with 14 offences and bowler Arif, 32, with six.
The allegations against Vincent arise from two Sussex matches played in August 2011 - a Twenty20 quarter-final against Lancashire and a 40-over game against Kent - while Arif's only relate to the latter fixture.
The Sussex-Kent match was investigated and cleared by the International Cricket Council's anti-corruption unit (ACSU), which found insufficient evidence, before the ECB reopened the case in 2012.
If the pair are found guilty, it will be the first time the game's authorities have proved the outcome of a county match in England was fixed.
Vincent is reported to have provided evidence to the ICC of fixing involving 12 matches around the world between 2008 and 2012, and has agreed to co-operate with the game's authorities.
And Robinson, a former seam bowler for Northants, Sussex and Yorkshire, said he was glad that corruption in the game was being exposed.
"We want the truth to be out, as hurtful as it is," the 47-year-old added.
"There's an element of trust and you want to believe in people. It's in world cricket and we hope more are discovered to help bring out the truth."
Vincent only spent one season at Hove, while Arif was released by the club at the end of the 2012 campaign.
Sussex captain Ed Joyce said the current playing squad were "very angry" when the allegations and charges came to light.
"It's the worst thing you can do to a sports team," the 35-year-old Irishman said.
"In life there are bad apples, we just have to make sure none of them are at Sussex. We met on Sunday and it was a very sombre place.
"It makes us angry that players wouldn't try their best to win a match."