Worcestershire: Richardson loss has been a good thing - Mason
Last updated on .From the section Cricket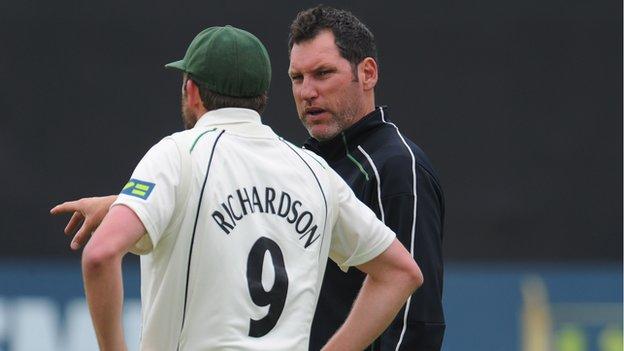 Worcestershire bowling coach Matt Mason says the departure of Alan Richardson has helped bring out the best in their other seamers.
"I know it's strange to say, but the lack of that key man has got the other guys thinking," Mason said.
"It's one of the big things that's helped, believe it or not."
Richardson's departure in January left a significant gap in Worcestershire's bowling ranks, but Mason has been delighted with how the rest have stepped up.
"They've thought about the responsibility they now have and they've taken to it really well," he said.
"Particularly the likes of Jack Shantry and Gareth Andrew - they're leading from the front now rather than being in Alan's shadow a bit.
"Gareth has played around 100 first-team games now and needed to step up, and that's what's happened."
Worcestershire have made a good start in the County Championship, with three wins and three draws from six matches so far in Division Two.
They have picked up 18 bowling bonus points in the process - the highest tally in both divisions of the championship.
"The discipline's high and they're physically well conditioned so that they keep running in time and time again," said Mason.
"Because we've started well, confidence is high and confidence is everything in this sport."
While Andrew and Shantry have led the seam attack, the mercurial spin of Pakistan Test star Saeed Ajmal and young quick Charlie Morris have added an extra dimension.
Morris, 20, has just signed a new three-year contract at New Road after an impressive start to the season and Mason is delighted.
"His control is so good. He's a very impressive young man, he does everything right and he looks like a seasoned pro," he said.
Ajmal, who won the recent match against Essex virtually single-handedly by taking 13 wickets, has already dovetailed nicely with the rest of the attack.
"He's not your typical spinner - he's more of a strike bowler, " Mason added.
"He's there to take wickets and his strike rate is immense. Guys don't want to face Saeed and it's allowed us to plan our seam attack around him.
"Any line-up we come up against, I'm confident we can knock them over."