Kevin Pietersen: ECB apologises over Ashes 'attitude'
Last updated on .From the section Cricket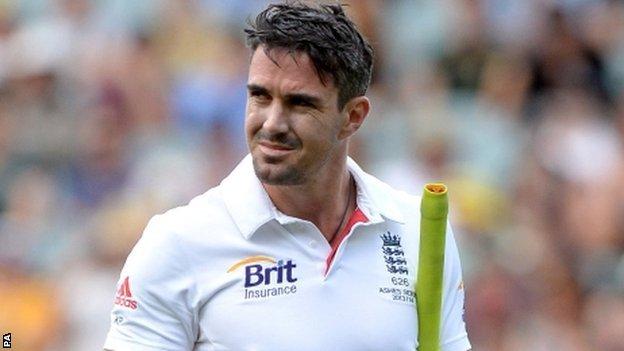 Kevin Pietersen has received an apology from the England and Wales Cricket Board and director Paul Downton following criticism of the batsman's attitude during the winter Ashes tour.
Downton said Pietersen had appeared "disinterested" and "distracted" during the fifth Test in Sydney, on BBC Test Match Special last week.
Pietersen, 33, later denied the claims.
An ECB statement read: "Paul Downton and the ECB both apologise to Kevin Pietersen for those comments."
Pietersen suggested after the interview that Downton had breached a settlement agreement reached with the ECB not to speak about events on tour.
During the interview, Downton also revealed he was unable to find a single person who wanted Pietersen to stay in the England side after speaking to every person on the management team and a number of senior players.
Pietersen also defended his attitude and performances in Australia, where he finished as England's leading batsman, with an average of 29.4 in 10 innings.
Downton, who was appointed as managing director of England cricket three months ago, was central to ending Pietersen's association with England.
The batsman, England's all-time leading run-scorer, was told he had no international future by the ECB in February, amid claims he had a negative effect in the 5-0 whitewash by Australia in the winter Ashes.
The ECB statement said: "On 22 May during an interview on BBC Test Match Special, Paul Downton of the ECB made a series of comments about Kevin Pietersen with which Kevin takes issue including the comments he made regarding his perception of Kevin's attitude during the Sydney Test on last winter's Ashes tour.
"Some of those comments were made in breach of a settlement agreement between the ECB and Kevin Pietersen which was concluded at the time Kevin's central contract was terminated earlier this year.
"Paul Downton and the ECB both apologise to Kevin Pietersen for those comments made that were in breach of the settlement agreement and have confirmed they will abide by its terms moving forward."
Speaking on BBC Test Match Special, former England captain Alec Stewart said: "I wouldn't use the word 'seething' to describe his mood. He accepts it. He wants to make sure he gets on with his cricket career. I expect Pietersen to play for Surrey next week.
"He's disappointed not to play for England. He wanted to score 10,000 Test runs.
"A decision has been made whether you agree with it or not - he will not play for England again."
Another former England captain Michael Vaughan was more critical of the whole issue of confidentiality agreements.
He said: "I understand where you have an agreement where you never speak. But if you have one that ends in a certain month then it shouldn't matter whether an official or player speaks out after that."