Guernsey's Jamie Nussbaumer worried by lack of cricketers
Last updated on .From the section Cricket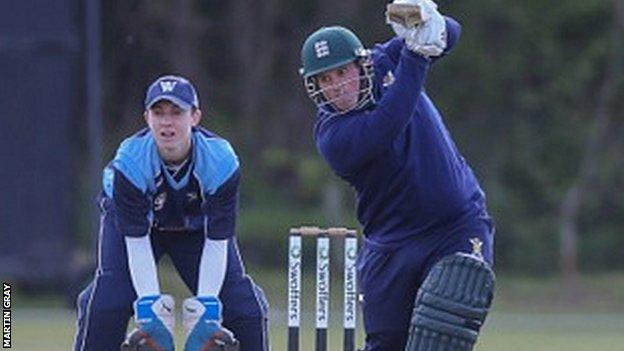 Guernsey captain Jamie Nussbaumer says he is worried about the lack of people wanting to play cricket on the island.
Already five matches in the Guernsey Cricket league have had to be cancelled because of a lack of players, with Nussbaumer's Cobo Tigers struggling to field a team for this weekend.
"It's been a slow decline over the past few years," he told BBC Radio Guernsey.
"I know a lot of the team captains are spending hours upon hours through the week trying to get teams out."
Nussbaumer has already had 24 players make themselves unavailable for his side's clash with Miton Optical - he so far has nine players for the game at Port Soif on Saturday.
"It's heartbreaking because I love the local game and I put in as much time and effort as I can," Nussbaumer said. "Unfortunately we're just not getting enough people with the buy-in to support it.
"For me personally, if you start to associate cricket with trying to force people to play rather than just going out on a weekend and trying to enjoy it, it becomes a bit of a chore in the end."
One option that Nussbaumer says could improve the situation would be to cut the Weekend League fixtures from 50 overs per side to 40, allowing players a whole morning to spend on other things.
"Psychologically it makes a big difference - you can start the games at 1pm or 12:30, so guys can have the morning off.
"It's a shrunk format so it's less time, a bit more action packed and that's the way I'd go."