Jos Buttler controversy will have impact on Tests - Ravi Bopara
Last updated on .From the section Cricket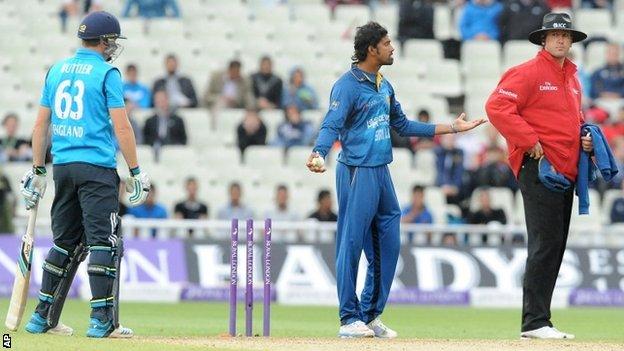 England batsman Ravi Bopara believes Jos Buttler's controversial run-out in the decisive one-day international against Sri Lanka will provide extra "needle" for the upcoming Test series.
Buttler was controversially run out while backing up at the non-striker's end during England's six-wicket defeat.
"I think there will be a bit of needle in the Test series now," Bopara told the BBC Asian Network.
The two-match series begins at Lord's on 12 June before moving to Headingley.
Bopara, who is unlikely to feature in the Test side, added: "It means we will have to come really hard at them, which is when we play our best cricket."
Sri Lanka bowler Sachithra Senanayake twice warned Buttler for straying out of his crease during Tuesday's ODI at Edgbaston, before removing the bails to dismiss him.
The off-spinner's actions were backed by his captain Angelo Mathews, who felt Buttler was attempting to gain an unfair advantage by walking off down the pitch.
Bopara disagreed, saying: "He's not taking off and stealing yards, he's just walking."
On the dismissal, he added: "Personally I don't think it is the right thing. I was quite shocked. I don't think I have seen that in international cricket before."
Although Senanayake's actions are within the rules, "Mankading", as it is known, is frowned upon by many within the game and the controversy has split cricket opinion.
Michael Clarke - Australia captain
"I think as long as the player's warned, it's in the rules so you can make whatever decision you want," Clarke told BBC Sport.
"Will an Australian player do it? I think I'd be silly to stand here and say 'no, it will never happen under my captaincy'."
Mark Ramprakash - former England batsman
"I'm very, very disappointed with the actions of the bowler and also the captain Angelo Mathews," Ramprakash told BBC Radio 5 live.
"I didn't feel Jos Buttler was trying to gain an unfair advantage. I think Angelo Mathews has misjudged this. And I feel that this, unfortunately, could set a very bad tone."
Geoffrey Boycott - former England batsman & Test Match Special summariser
"It's not in the spirit. It's regarded as wrong. It's about the moral obligation, not just the rules," Boycott told BBC Radio 5 live.
"You could run nine out of 10 people out if you wanted."
Graeme Swann - former England bowler
Swann wrote on Twitter: "Mankads, sledging, not walking, claiming ropey catches, match fixing...until ALL players seriously want to eradicate these ills the notion of a gentleman's game upholding the spirit of cricket is a pipe dream. Very sad when you think about it."
Angelo Mathews - Sri Lanka captain
"What we did was completely within the rules," Mathews said.
"He was taking starts, not only this game but in the last game as well.
"We gave him two warnings. I don't know what else you can do to stop him doing that, so we had to go for it."
Michael Vaughan - former England captain
Vaughan wrote on Twitter: "Totally blame the captain... He is the man who makes the decisions and should have overturned the decision. No way to play the game."
Arjuna Ranatunga - former Sri Lanka captain
"We should have got him out and then Angelo called him back to play," Ranatunga said. "That is what I would have done.
"Our warning to Buttler a couple of times may not go down in the record books, but if we recalled him, then it would be recorded and showed that we had properly warned him."
Alec Stewart - former England captain
"With the laws of the game as they are, Sri Lanka are entitled to appeal," Stewart told Test Match Special. "We don't like to see that, but why have that law when it can't be used?"