England set for Sri Lanka tour in build-up to 2015 World Cup
Last updated on .From the section Cricket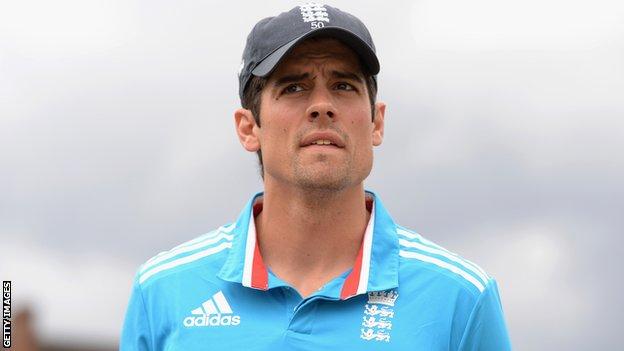 England will play a seven-match one-day international series in Sri Lanka in November and December, as part of their build-up to the 2015 World Cup.
Alastair Cook's side face two warm-up games in Colombo before the series begins there on 26 November.
The series will give England the chance to avenge their recent one-day series defeat by Sri Lanka on home soil.
With no overseas Tests scheduled until April, it will allow them to focus on the 50-over game before the World Cup.
After returning home for Christmas, England will then travel to Australia for a triangular ODI series in January also involving the hosts and India.
They will remain down under for the World Cup, which is hosted by Australia and New Zealand, with England's first game against the Aussies in Melbourne on 14 February 2015.
The top four teams in their group - which also includes Sri Lanka, Bangladesh, New Zealand, Afghanistan and Scotland - will reach the quarter-finals.
England last visited Sri Lanka for a brief tour in March and April 2012 when a two-Test series was drawn 1-1.
Provision has been made for a reserve day in five of the seven games.
England one-day tour to Sri Lanka 2014
21 Nov: v Sri Lanka A, Colombo (SSC)
23 Nov: v Sri Lanka A, Colombo (P Sara Oval)
26 Nov: 1st ODI, Colombo (RPS) (d/n) *
29 Nov: 2nd ODI, Colombo (RPS) *
3 Dec: 3rd ODI, Hambantota (d/n)
6 Dec: 4th ODI, Colombo (RPS) *
10 Dec: 5th ODI, Pallekelle (d/n) *
13 Dec: 6th ODI, Pallekelle *
16 Dec: 7th ODI, Colombo (RPS) (d/n)
(* denotes provision for a reserve day)