England v Sri Lanka: Joe Root century begins road to recovery

By Tom Fordyce
Chief sports writer
Last updated on .From the section Cricket142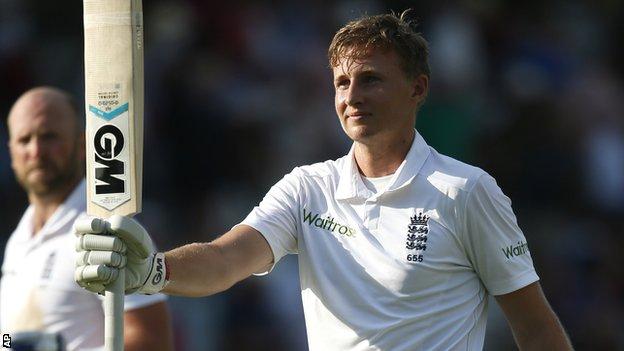 As new dawns go it appeared entirely different from the black night that preceded it.
Lord's, sun-buttered and warm of welcome on an early summer's morning, the horrors of a scorched Australia and that dreadful 5-0 thrashing so far away that you could shut your eyes and almost pretend it never happened.
Then you opened your eyes, and the brave new world seemed suspiciously similar to the bad old one: an opening batsman gone early, the skipper trudging off with head bowed, a third wicket lost to a reckless shot before the lunchtime corks had been popped.
Only five survivors from England's last Test outing in Sydney five months ago had made it through the purges and retirements to this first day of the Test summer. Gone too are the old technical director, the batting coach, the spin coach and the fitness man.
Three debutants were awarded their caps before play began. You would call it a rebirth, except the last time three men made their bow for England at the same time was exactly one match ago, suggesting not so much succession planning as wild panic.
Sure enough, 90 minutes in, England three down and wobbling, the old seemed to be infecting the new.
Sam Robson, his case for selection made with Middlesex on this same ground, misjudged a ball going down the famous Lord's slope and was caught behind for one. Gary Ballance, one of the trio given his chance in the wreckage of that Ashes series, played and missed in his audition for the critical number three position and then edged to the wicketkeeper for 23.

In between, Alastair Cook played on for just 17, his average in the last calendar year now down to 25.7 against a career average more than 20 runs better.
It made little sense. The Lord's pitch may have looked green, but it played as straight and true as a championship snooker table. The Sri Lankan attack contains no demon destroyers to match Mitchell Johnson. In the air was only the gentle murmur of half-cut chatter rather than the raucous abuse of an exultant Aussie full house.
And so first Ian Bell, and then Moeen Ali, and then in an increasingly easy evening session Joe Root and Matt Prior, all calmly flourished. By the close England had rattled away to 344-5, Root unbeaten on 102, Prior alongside him on 76.
For those two, dropped in Australia after first being neutered and then filleted by the pace of Johnson and the accuracy of Ryan Harris, it was the sweetest of second comings.
It is also only the smallest of green shoots. That demolition down under reduced one England team to rubble. It will take more than a carefree session, or series, or one recuperative summer, to rebuild the next.
Robson has been picked for the long haul, Ballance identified as possessing the character and technique to prosper.
It is why Robson need not fear idle comparisons with the last Australian-born opening batsman to play for England, Jason Gallian, whose Test career ended after three matches and brought an average of just 12. Neither will Ballance worry yet about a propensity to get deep in his crease and play at wide balls with feet barely moving. He is being granted time and opportunity.
For Moeen, along with fast bowler Chris Jordan the other new kid on the block, the first steps were more purposeful and assured.
Some players take to Test cricket as if no step up in class had been made. So it was with the Worcestershire man, who had hit 66 and 81 in his opening first-class match at this ground four years ago and got off the mark in the sort of unflustered style - a controlled cuff through square leg for four - that suggested he rather liked the home of his chosen sport.
There was a six cracked over long on from the first ball he faced from spinner Rangana Herath, some easy on the eye drives and a poise at the crease of a man playing delivery rather than occasion.
Only in his dismissal, two short of a half-century that was there to be claimed, was there weakness - chasing one tossed up by Herath, caught at slip off an outside edge when he could have defended or left alone.
Prior was considered by many lucky to have been recalled, Jos Buttler's explosive batting suggesting the time had come for last season's England player of the year to step aside for the coming man. Had the team not been so shorn of experienced players after the retirement of Graeme Swann, excommunication of Kevin Pietersen and enforced absence of Jonathan Trott his own exclusion may have become permanent.
To the second delivery he faced he could have been given lbw, replays indicating the ball would have hit the top of middle stump but the decision remaining with the on-field umpire. His average in Test cricket in the last 12 months is just 18.5, against a career average of almost 41. Had he gone then, both the match and his future could have looked very different.
Instead he played like the old Prior, the accelerator of innings, quick to cut, fast between the wickets to turn ones into twos.
With him Root was more initially more inconspicuous, accumulating rather than dominating, laying anchor as a natural opener playing down at five might be expected to do.
As the shadows eased across the outfield so did the pressure. In the balmy evening light he finally played with a fluency that matched his display in making that silky 180 on this ground 11 months ago but which deserted him in the Ashes travails that followed.
Having been shovelled up and down the order in his short Test career, filling holes and never making any slot his own, he now deserves a little stability as he looks to settle in.
Against Australia last summer and winter he was exposed by the pace and bounce of the new ball. On this pitch, against this attack, in that position, he has been protected in a way he never was before. It does not mean that his old problems have been erased, but it does give him the chance to work on them.
And that is what this summer entails for England: not pretending that the horrors of last winter were a freakish malfunction, or hoping that Pietersen's absence will somehow never be brought up, but that a base is laid.
It took almost 12 years for England to go from rock-bottom in 1999 to the top of the world, only five matches for them to go from an unbeaten Ashes to a humiliated rump. The recovery this time, if there is to be one, is likely to be equally as incremental.