Jonathan Agnew column: England will take time to regain confidence

By Jonathan Agnew
BBC cricket correspondent
Last updated on .From the section Cricket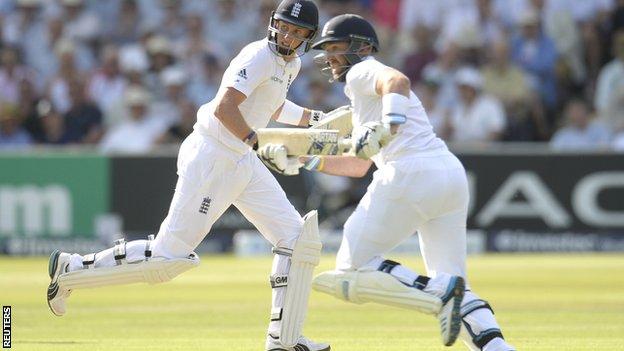 If England were like a patient in intensive care at the end of the Ashes series in Australia, on Thursday the sick man made his first tentative steps on the road to recovery.
In the latter stages of the first day of the opening Test against Sri Lanka at Lord's, Joe Root and Matt Prior started to bat with a confidence that has been lacking for some time.
And if England can go on to post a total in excess of 400 for the first time in 27 innings, they will be comfortably in control of the match.
However, any optimism must be tempered by the fact Sri Lanka's attack is workmanlike at best and has very little experience on these types of pitches.
In the early stages of the day, as England fell to 120-4 following a series of injudicious shots, there were plenty of signs that this team remains a work in progress.
Take captain Alastair Cook. Before the start of play, he was clearly feeling the pressure, pacing around on the outfield and asking people for advice on whether to bat or bowl first.
As it happened, Sri Lanka's winning call took the decision out of his hands but by putting England in on one of the grassiest wickets I have seen at Lord's they immediately put Cook's batting under the spotlight.
His dismissal - playing on to a ball that was too close to cut - is one of those things that can happen to a batsman, but sooner or later Cook must produce an innings to silence his doubters.
Opening with Cook for the first time, Sam Robson was out to a classic debutant's dismissal. Playing for Middlesex he wouldn't have gone near a delivery well outside off stump so early in his innings, but Test cricket does funny things to you and he paid the price.
Gary Ballance fell in similar fashion for 23 in his first attempt to prove that he can be a long-term replacement for Jonathan Trott in the all-important number three position.
Clearly, questions remain for England, but it would be churlish not to mention the positives on a sun-drenched day at Lord's.
Moeen Ali batted with style for his 48 to suggest he can have a bright future at this level.
I had dinner with Moeen on Monday and I really like him as an individual. He is very serene and seems happy about where he is in his life.
He isn't really fazed by anything and even today when I bumped into him before the start of play he was smiling and clearly relishing the prospect of making his Test debut at Lord's.
Moeen's dismissal to a clever piece of bowling from Rangana Herath - tempting the batsman into a big shot to bring up his fifty - left the day hanging in the balance with England on 209-5.
But a one-sided evening session in which England took on a tiring attack gave the hosts the ascendancy.
Leading the way was Root, a player who was in a really bad place both technically and mentally by the end of the fourth Test in Australia.
Batting either as an opener or at number three against the Aussies, his back foot technique made him vulnerable against the new ball and he was ruthlessly exposed by a formidable attack.
England know Root is a big part of their future so they had to get him back on track - and it looks like moving back down the order can bring out the best in him.
Meanwhile, Matt Prior will be equally delighted to be back among the runs.
He was very lucky not to be out lbw to Herath for nought, but these things happen sometimes and once he had played himself in, he began to look like the player who not so long ago was one of the finest wicketkeeper-batsmen in world cricket.
He was bossy and combative, twiddling his bat between deliveries, scoring quickly and taking the attack to the opposition.
Prior's innings was one of several encouraging signs for England, but this is only the beginning of a long journey back from oblivion.
Jonathan Agnew was talking to BBC Sport's Sam Sheringham