Nottinghamshire: Mick Newell considers new signing for T20 Blast
Last updated on .From the section Cricket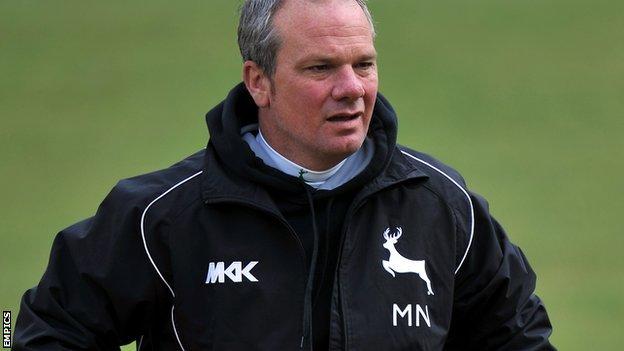 Director of cricket Mick Newell could bring in a player to improve Nottinghamshire's poor Twenty20 form.
Notts, who have no overseas player for the T20 this season, currently sit seventh in the North Group.
Newell told BBC Radio Nottingham: "We could get someone in for six weeks now and they could play the rest of the group stages.
"That is something we will have to consider because we have now lost three out of five."
Notts, who are six points behind leaders Worcestershire and three points off the final qualifying place, have reached the quarter-finals stage for the last four seasons.
Newell continued: "We want to get in the top four. We are used to qualifying for the quarter-finals and we want to do it again.
"To get through we have to win eight out of 14 I think, so that leaves us with an awful lot to do in the last eight matches.
"There are lots of areas where we are not playing well enough and that's why we keep losing, so we obviously should be concerned.
"Unless we get someone in from outside, we are not going to be able to tinker with what we've got. I am thinking about it."
But Newell ruled out a return for crowd favourite Australian David Hussey, who averages over 30 in Twenty20 cricket.
"His type of cricket is exactly what's missing, but he has commitments coming up in the Caribbean Premier League," added Newell.
"He really hasn't got a space in his diary to come and play."