Muttiah Muralitharan hired by Australia as bowling consultant
Last updated on .From the section Cricket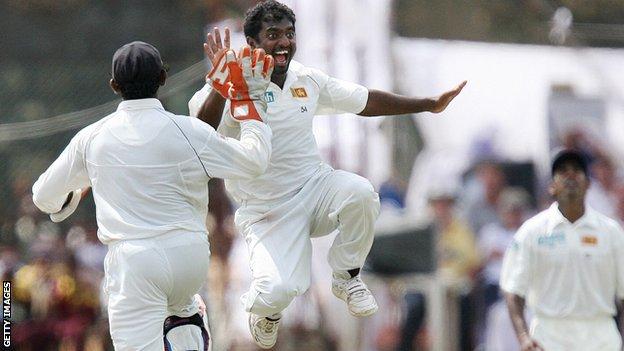 Record Test wicket-taker Muttiah Muralitharan will work with Australia as a spin-bowling consultant for their Test series against Pakistan.
The Sri Lankan, who took 800 Test wickets, travels to the United Arab Emirates for October's two-Test series.
"I have bowled to most of the Pakistani batsmen in the past, so hopefully I can help a bit," said Muralitharan, 42.
In 2003 he threatened never to return to Australia because of abuse from fans over his controversial bowling action.
Muralitharan, who retired from Test cricket in 2010, was no-balled by umpire Darrell Hair in the 1995 Boxing Day Test in Melbourne and by Ross Emerson during a one-day international in Brisbane the following year.
Although his action was subsequently cleared by the International Cricket Council, Emerson later no-balled Muralitharan in a 1999 ODI against England in Adelaide, enraging Sri Lanka captain Arjuna Ranatunga who led his team off the field for 15 minutes.
Despite the controversies, Muralitharan has played in the past two Big Bash Twenty20 competitions in Australia.
The world's top-ranked Test side boast a strong pace attack, but have struggled to replace Shane Warne since his retirement from international cricket in 2007.

Off-spinner Nathan Lyon, who has 112 Test wickets at an average of 32.99, is currently Australia's leading slow bowler.
Muralitharan said: "Nathan Lyon has been bowling brilliantly, but hopefully I can help him a little bit on how to bowl in these subcontinent conditions."
Despite whitewashing England 5-0 in the latest Ashes series, Australia's batsmen have struggled against quality spin bowling on turning pitches, losing 4-0 in India in 2013.
Muralitharan said he intended to help prepare Michael Clarke's side to face Pakistan's 36-year-old spinner Saeed Ajmal.
"Ajmal is a difficult customer for all the best batsmen in the world but he bowls a little bit similar to me, so perhaps if I can bowl to the Australian batsmen it might help a little bit and give them some tips," he said.
The first Test against Pakistan starts in Dubai on 20 October, with the second in Abu Dhabi on 28 October.