Tommy Stewart: Teenage bowler takes 10 wickets for two runs
Last updated on .From the section Cricket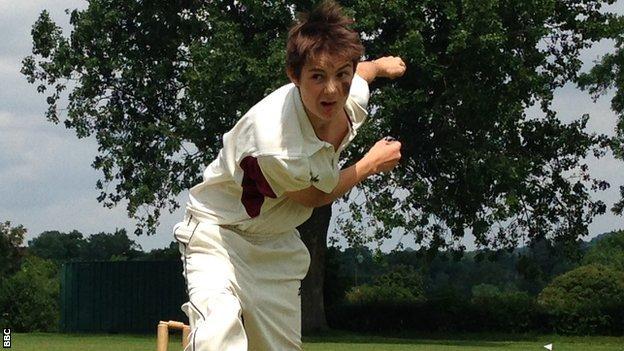 A 13-year-old Somerset boy has taken 10 wickets for only two runs during an under-14s school game.
Tommy Stewart and his Sexey's School team-mates needed to stop The Gryphon School from reaching a target of 104.
The Yeovil teenager stepped up and clean bowled nine batsmen, also taking a caught-and-bowled, as Gryphon were all out for 24.
The only two runs Stewart conceded during his five overs went down as extras, after he bowled two wides.
"I've been out of form with the bat - I got out to a terrible shot - so I was frustrated. My coach told me to channel that into my bowling," he told BBC Somerset.
"I thought to myself 'don't muck up, keep them under 104'. I wasn't trying to get wickets, I wanted to keep to dot balls.
"I thought I'd take a few, then the middle order will hit a few runs and that would be the end of the game.
"I never thought anything amazing would happen."
Stewart finished with bowling figures of five overs, three maidens, two runs and 10 wickets - and twice found himself on a hat-trick.
"After the sixth wicket I thought, with the lower order, I could go in and take a few more.
"I hoped then I could take all 10 and become famous."
In Test cricket, only two players have ever taken 10 wickets in an innings - Jim Laker (10-53) for England against Australia in 1956, and Anil Kumble (10-74) for India against Pakistan in 1999.
The best figures in first-class cricket belong to Hedley Verity, who finished with 10-10 in 1938 while playing for Yorkshire.