Essex: Bopara concerned by bowling unit's lack of pace
Last updated on .From the section Cricket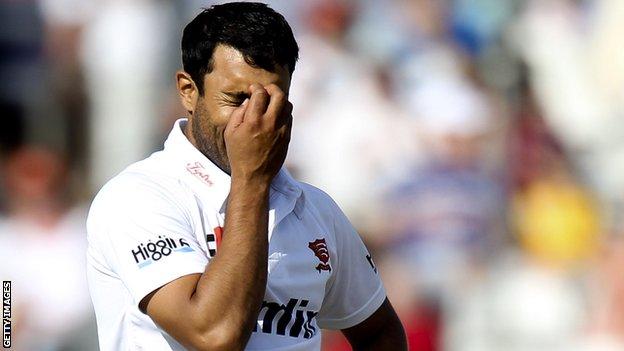 Essex all-rounder Ravi Bopara has said his side's bowling attack lacked the pace required to beat Division Two promotion rivals Hampshire.
"We probably haven't got a lot of pace in our side," Bopara told BBC Essex.
"We have one guy up in the 90s, but if we're being honest the rest of them are 70 or 75 at best."
Essex's defeat at Southampton, which leaves them third in the table, had as much to do with their batting as their bowling, with totals of 121 and 135.
But the Hampshire second innings was a slog in the field for the visitors, with nine different bowlers used as the home side piled up 440-3 before declaring.
England international Bopara, 29, took one of the wickets, with Reece Topley claiming the other two.
In contrast, Hampshire were able to end the Essex's second innings with seven different bowlers taking the wickets.
"We can learn from their four seamers who banged away on a good length, drawing the batsmen forward pretty much the whole time," said Bopara.
"The difference was they had four guys who can do it, we probably only had two.
"That makes a huge difference when you can swing it at pace. You have to bat very well to get through it sometimes. We weren't good enough in these last few days.
"They outplayed us. That's the crux of it. They are second in the table and are a very good team. We deserved to lose and they deserved to win."