Match-fixing: Mohammad Ashraful banned for eight years
Last updated on .From the section Cricket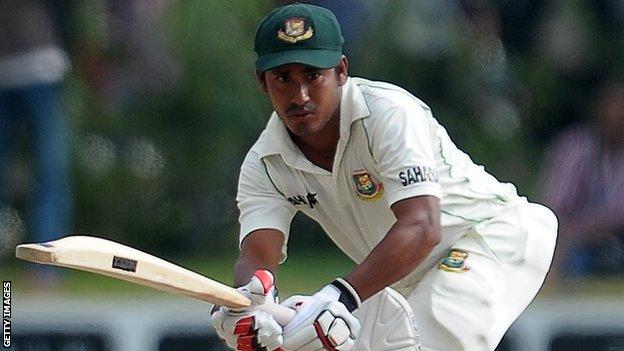 Former Bangladesh captain Mohammad Ashraful has been banned for eight years for match-fixing.
A Bangladesh Cricket Board tribunal found the 29-year-old guilty of four charges of fixing matches in last year's Bangladesh Premier League.
The tribunal also banned ex-New Zealand batsman Lou Vincent, 35, for three years for not informing authorities he was approached to fix BPL matches.
Sri Lanka's Kaushal Lokuarachchi, 31, got 18 months for the same offence.
Ashraful's ban is backdated to May last year and he will also have to pay a fine of one million taka (approximately £7600).
He became his country's youngest Test centurion in 2001 at the age of 17, and has played 23 Twenty20 internationals, 61 Tests, and 177 one-day internationals, including captaining his side between 2007 and 2009.

Ashraful admitted to the offences a year ago and said at the time: "I seek forgiveness from all of you for all the wrong-doings that I have committed. I am ashamed of what I have done."
Vincent played 23 Tests, 102 one-dayers and nine Twenty20 internationals for the Kiwis, while batsman Lokuarachchi played four Tests, 21 one-dayers and two Twenty20 matches for Sri Lanka.
The managing director of BPL champions Dhaka Gladiators, Shihab Jishan Chowdhury, was also banned for 10 years for being involved in an effort to fix a match.
Shakil Kasem, one of the three-member tribunal which handed down the sentences, said the bans would be effective worldwide.
"The charges against the four were brought in accordance with the International Cricket Council's anti-corruption code," said Kasem.
"As a result, during the ban period, they'll be barred from playing and all sorts of cricketing activities anywhere in the world."
Earlier on Wednesday, former Sussex player Naved Arif was banned from cricket for life by the England and Wales Cricket Board for match-fixing.