England v Sri Lanka: The making of Ian Bell
By Stephan Shemilt
BBC Sport
Last updated on .From the section Cricket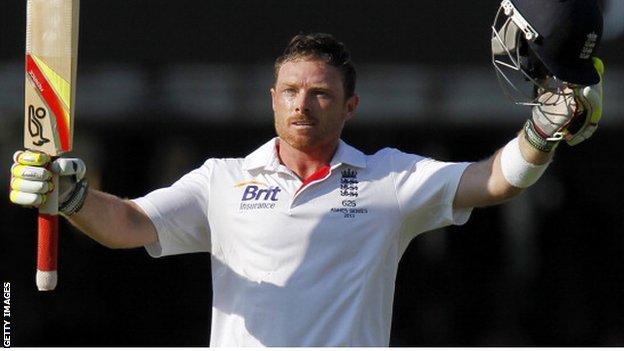 Precocious talent. Under-achiever. Renaissance man. Ashes hero.
The transformation from 'The Sherminator' derided by Shane Warne in the 2005 Ashes to the 32-year-old statesman-like rock of England's middle order has been a storied one.
Those who have been close to him from his schooldays at Princethorpe College through to the England set-up, via his county Warwickshire and a spell in Australian grade cricket, reveal the dedication and durability that have been the making of Ian Bell.
Classroom to crease - prince of Princethorpe
Speaking to BBC Sport last October, Bell revealed the debt he owes to Princethorpe College, an independent school in Rugby, Warwickshire,
His old sports teacher Gwilym Price gave Bell and his younger brother Keith a set of keys to the Princethorpe nets to use as they pleased.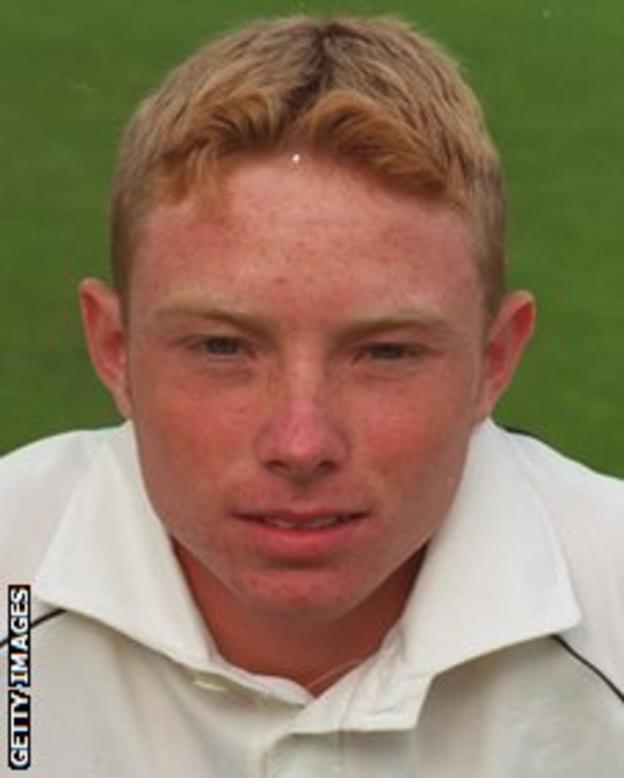 That enthusiasm for extra practice saw Bell given his first trial with Warwickshire at the age of nine, where he met former Bears batsman Neal Abberley, the first of several influential coaches in his career.
"Right to the end, we were always talking about batting," said Bell, who wore a black armband during the first Test he played after Abberley's death in 2011. "The technique I've had all my career was all down to Neil. I wouldn't be the player I am now without the work we did then."
His early progress was rapid, the youngest player to score a century at representative level for the county in a junior game. "That was special because it was made on the Edgbaston Nursery Ground at the same time the senior team were playing on the main ground," Bell's father Terry told BBC Sport.
"They mounted the ball and first XI captain Dermot Reeve presented it to him in front of the pavilion during the next county game."
His first-class debut arrived at 17, summoned unexpectedly from the school classroom to Edgbaston one September morning in 1999 to play against Sussex.
Bell failed to get off the mark in his only innings, but did take two catches off the bowling of future England team-mate Ashley Giles. His ambition of playing for Warwickshire had been fulfilled.
The young Englishman who couldn't sledge
After working with the innovative Bob Woolmer - "Bob helped me take the technique I'd learned with Neil to another level," said Bell - Warwickshire's next coach, the Australian John Inverarity, suggested a spell in Australia might help the then 21-year-old "mature as an individual, maybe learn some more life skills".
A former captain of Western Australia, Inverarity put Bell on to the University Cricket Club in Perth, where he spent the winter of 2003-04. Only hours after landing, the young Englishman had already made an impression.
"On the day he got off the plane, the second team were a player short and needed a fielder," recalled John Townsend, a journalist with The West Australian newspaper and a team-mate of Bell's at University.
"The first thing he did in Australia was put his hand up to sub. He walked on the field, went straight to gully and, from his first ball on Australian soil, took a one-handed blinder."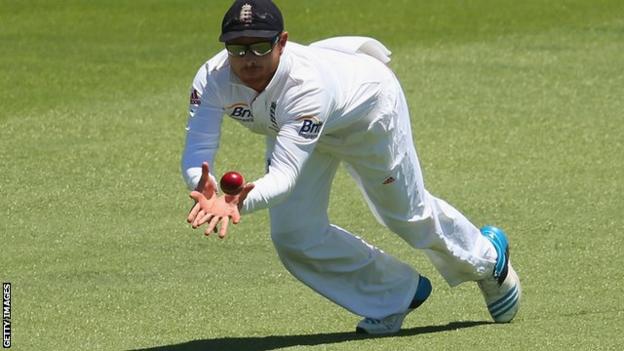 Though Bell only had one century to show for his winter's work, he discovered an edge to his game that almost landed him in trouble.
"He was bowling one game and had a couple of nicks dropped, a couple not given and had this bloke who had been a pain to him all day, gobbing off," recalled Townsend.
"He finally got him out and gave him a real send-off. All of our team fell about laughing. He said 'I've been listening to you blokes sledge for three months and I thought I'd hop in'.
"He totally misread the situation and had everyone on the field rolling around at this young, ginger-haired, freckle-faced kid, who never said boo to a goose for months, then came out with an absolute outburst."
The comeback kid - and dressing room joker
Bell had already toured with England, travelling to New Zealand in early 2002 as cover the winter before his spell in Perth.
But it was not until August 2004 that he made his Test bow, announcing his arrival with a knock of 70 batting at number five against West Indies at The Oval.
| Five of Bell's best innings | | |
| --- | --- | --- |
| January 2010 | 78 v South Africa, Cape Town | Nearly five hours at the crease to help earn a draw |
| January 2011 | 118 v Australia, Sydney | With series already won, a first Ashes hundred buried demons |
| July 2011 | 159 v India, Trent Bridge | Controversially run out thinking the ball had gone for four, only to be reinstated after a tea break. |
| July 2013 | 109 v Australia, Trent Bridge | First of Ashes trilogy, six hours of patience, a second-innings ton in a Test won by only 14 runs |
| August 2013 | 113 v Australia, Chester-le-Street | Ashes-clincher. England effectively 17-3 when Bell came in on tricky wicket. Ton paved way for Stuart Broad's heroics |
The following 98 caps have brought shifts up and down the order and accusations that he failed to score runs when the pressure was on. Bell has twice been dropped, in 2006 - when his Test average stood at 39 after 14 matches - and 2009, paying the price after England were skittled for 51 by West Indies, with Bell scoring only 214 runs in his previous 12 innings.
On both occasions he was out of the side for less than six months; on both he marked his recall in style. In 2006 three tons arrived in as many Tests against Pakistan; in 2009 two half-centuries in an Ashes win, followed by a South Africa tour that forged Bell's later-career dependability.
A century in the second Test in Durban was followed by a backs-to-the-wall, rearguard 78 that set up a remarkable escape in the next match in Cape Town.
"He became mentally tougher," said Giles. "Maybe the experience of being left out helped that. He came back a stronger competitor and cricketer."
Not that it was all net practice and early nights.
"He's got a reputation for being one of the mischievous ones in the dressing room," Giles revealed. "If something goes missing, it's generally Ian Bell that's behind it. If it's a practical joke, he won't be far away from it. He'll go into the rooms of the other lads and move things around."
Early starts and grafting with Goochie
Bell's in, out, in-again year of 2009 coincided with Graham Gooch's appointment as England batting coach and the meeting of two kindred spirits.
"I wish I'd worked with Goochie years before," said Bell. "He's prepared to do as much work with you as possible, and that's an incredible trait as a person.
"There's always a purpose to every session. It might be physical, where he'll make you do press-ups and shuttle-runs between deliveries. He'll try to get you out by breaking your concentration with the physical stuff."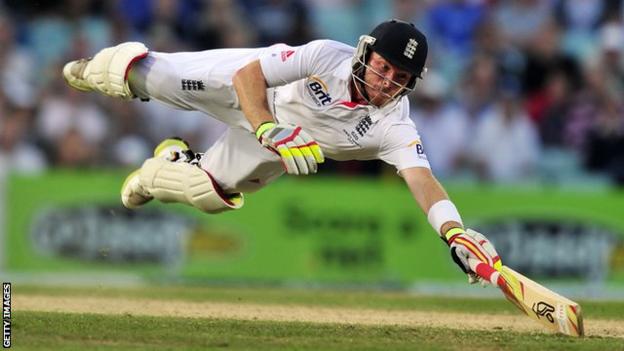 Bell is effusive in his praise of Gooch's methods and being pushed by a coach with a similar work ethic as his own appears to have helped the Warwickshire man to greater heights.
"Me and Jimmy Anderson used to turn up in the car and Belly would already be in the nets," said former England spinner Graeme Swann.
"At some places you go around the world you have to leave at six in the morning to be at the ground on time. Belly would be leaving at five just to get extra batting practice."
When Bell was dropped in early 2009, he had played 46 Tests and had a career average of 40.59. In the 53 Tests since he was recalled, he has piled on 3,783 runs at 56.46.
Ashes hero
If the 115 scored in the fifth Test at Sydney in 2011 firmly banished the Ashes demons inflicted by Warne in 2005, the three tons of 2013 gave Bell a career-defining summer.
"He was going in at 30-3 every game and making sure we had totals to bowl at," said Swann. "Our batting let us down throughout the summer apart from one man.
"The wickets were made to ensure there wouldn't be many big totals, so the fact we had someone there scoring hundreds was the main difference between the sides."
England's Test centurions

Alec Stewart

133 appearances (1990-2003)

Graham Gooch

118 (1975-1995)

David Gower

117 (1978-1992)

Michael Atherton

115 (1989-2001)

Colin Cowdrey

114 (1954-1975)

Geoffrey Boycott

108 (1964-1982)

Kevin Pietersen

104 (2005-2014)*

Alastair Cook

103 (2006-2014)*

Ian Botham

102 (1977-1992)

Andrew Strauss

100 (2004-2012)

Graham Thorpe

100 (1993-2005)

* still playing
Like the rest of the England team, Bell struggled in the return down under last winter, but such is his standing, his place was never a matter of debate.
In the first Test against Sri Lanka last week, a new era for England began with Bell the maestro at number four. Even with one double hundred and three other centuries scored in the match, his first-innings 56 was still the most pleasing on the eye.
With the Aussies due to return next summer, he seems likely to have the opportunity to win a fifth Ashes series in seven attempts. A fourth tour of Australia in 2017-18 is not out of the question.
"It's taken me a while to get it out there, said Bell recently. "But since 2009 my cricket has got better and better.
"I was perhaps guilty of getting good runs at an easy time, but now I have started to get runs when it really matters for the team. Hopefully there are a few more years to come."