James Harris still hopes to gain full England honours

By James Harris
Middlesex and England Lions
Last updated on .From the section Cricket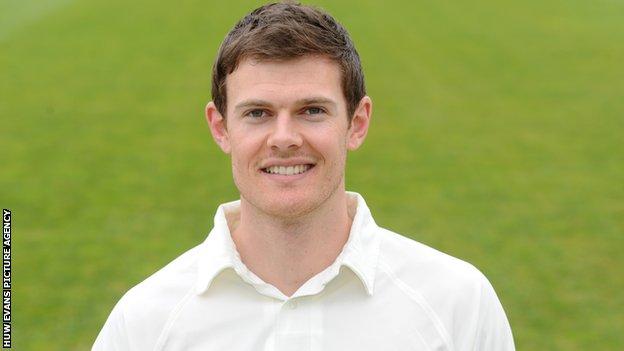 In his BBC Wales Sport column, England Lions bowler James Harris, reflects on the changes he has been making to his game to try to fulfil his ambition of gaining full England honours and how the season has gone so far, for his team Middlesex and former county Glamorgan.
The day I wake up and don't want to play for England and don't want to try and get in the England team will be the day I probably stop playing cricket.
I'm desperate to do that of course and it's probably fair to say that I've taken a little step back to move two steps forward by changing my bowling action.
When you make decisions to make changes in your game, some of which can be pretty big, you have to accept that things aren't going to click straight away.
It's going to take a bit of time and that's the kind of stage we are in now.
Once it clicks it will be 10-15% better than what had gone before and we can really push on again.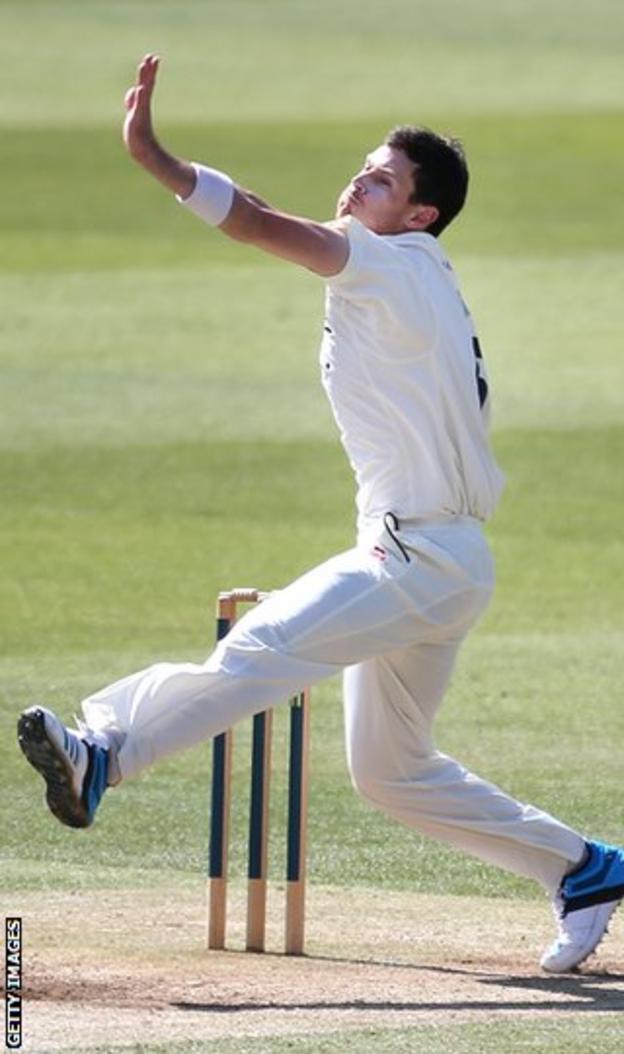 I've always had a very natural jump, just before my delivery stride a bit like [Australian bowler] Glenn McGrath, who kind of jumped in just before the stumps, just before he let the ball go.
It's something I developed subconsciously when I was young.
I've bowled with my old action since I was 10, up until probably a year ago, since we started making the technical changes.
The stuff we are changing is making sure my momentum is going forward as much as possible with the aim of getting a bit of extra pace.
I kind of split my arms so they both don't go up together at the same time, with the aim of creating a bit more torque and a bit more force, so I can bowl quicker without having to try any harder.
So it's all quite geeky and technical stuff.
There are days when you think, 'why on earth am I doing this? This is nowhere near as good as it was,' but you have to keep faith with it, knowing that what you're doing is good stuff and it will come good once it beds in.
Changing your bowling action is a bit like a tennis player changing their serve. It was born out of a want to improve, a want to play for England, a want to be better than I was before.
If there was stuff to be done and I didn't do it and I didn't play for England I'd probably regret it.
So even if it doesn't come out better than it was previously, it's something I have to do because I have to give myself the best chance to be as good as I can be and to give myself the chance to play international cricket which is mine and many other people's dream.
Middlesex
The season so far with Middlesex has been a little bit up and down.
In the County Championship we've played some magnificent cricket and led games and beaten teams comprehensively.
On the other hand we've had a couple of bad weeks where nothing's gone right at all.
There was also the disappointing defeat against Nottinghamshire where we batted most of the game, and they've played magnificently well on the last day to chase down a very big total, very similar to what we did against Yorkshire.
The T20 Blast hasn't massively kicked off for us. We lost six of our first six but had a win on Wednesday against Somerset.
Hopefully we've turned a corner with that and we can go on a bit of a run.
Glamorgan
Many of the guys at Glamorgan are my best friends and will remain so for the rest of my life.
I love the county and I always look out for their results.
I know by speaking to the boys that they've got a really good work ethic and they are all working immensely hard.
If you put the work in generally the results will come and they've done really well so far this season.
They've made themselves hard to beat, shown with the couple of gritty performances they've put in to draw games they looked like losing. It is a great trait to have.
Halfway through the summer they are in a great spot to be able to push on and hopefully finish high up in the [county championship] table.
The T20 Blast is all about making the quarter finals and I think they are also in a great position to be able to achieve that.
The dramatic draw against Kent was a great performance and demonstrated the confidence that they've got in being able to win or draw games they looked like losing.
James Harris was talking to BBC Sport's Rob Westall