Stuart Broad's remarkable hat-trick caps England's day - Agnew

By Jonathan Agnew
BBC cricket correspondent
Last updated on .From the section Cricket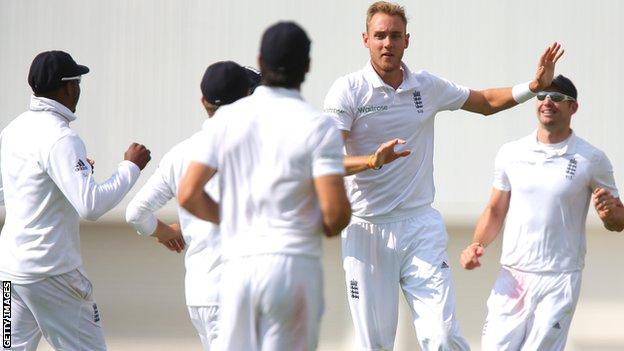 Though England bowled Sri Lanka out for 257 on the first day of the second Test against Sri Lanka at Headingley, it was still a rather strange performance by the home side.
Alastair Cook was definitely right to field first when he won the toss on a clammy, overcast morning, but his side probably deserved even more than to bowl Sri Lanka out as cheaply as they did.
Had it not been for some poor fielding, the tourists might have been rolled over for 220 or even less.
England's biggest crime was to give Kumar Sangakkara three lives - Chris Jordan missing the stumps with a 50-50 run out chance, Moeen Ali dropping a catch that should have been taken at point and Matt Prior putting down an opportunity most unlike him to miss.
Sangakkara was also reprieved when England did not appeal for a catch behind and, though he had those let-offs, he did show that runs can be scored on this wicket with patience and application.
Having said that, England's pace attack bowled beautifully. As a side loaded with seamers, England must accept every bit of assistance on offer and, despite the fielding errors, they did just that.
The most success went to Liam Plunkett, whom I watched with interest after the way he bowled on his return to the England side in the drawn first Test at Lord's.
His previous incarnation as a Test cricketer, which ended seven years ago, saw him as a pitch-it-up swing bowler. He has since gone away, had problems, switched counties from Durham to Yorkshire and reinvented himself to charge in and bowl fast.
What would he do today? He still bowled very fast - the short balls to dismiss Lahiru Thirimanne and Dhammika Prasad were nasty, under-the-armpit stuff. However, he also swung the ball at a full length to bowl Dimuth Karunaratne earlier in the day.
If you can do both, then you are a serious proposition as a fast bowler. England may have picked Plunkett with what Mitchell Johnson did to them in the 5-0 Ashes whitewash still fresh in the mind and he certainly provides a cutting edge.
Along with Stuart Broad, Plunkett was responsible for the collapse of four wickets for one run in nine balls that tipped the balance back in England's favour.
Players to take two Test hat-tricks

Stuart Broad (England)

2011 v India & 2014 v Sri Lanka

Wasim Akram (Pakistan)

1999 v Sri Lanka & 1999 v Sri Lanka

Jimmy Matthews (Australia)

1912 v South Africa (in the same match)

Hugh Trumble (Australia)

1902 v England & 1904 v England
Broad's hat-trick - his second in Test cricket - was simply incredible. Spread across two overs and with a Plunkett wicket in between, barely anyone on the ground was aware that they had just witnessed a piece of history, with Broad becoming the first England bowler to achieve the feat twice.
Television didn't know, the crowd didn't know, England didn't know and Broad didn't know. In fact, it was only Simon Mann in the Test Match Special box that was alive to what was going on.
What makes it all the more remarkable is that Broad is usually very alert to these things. For someone to take a hat-trick in Test cricket and not be aware is amazing and something I have not seen before.
Broad's efforts set England on the way to batting by the close, a nice bonus for Cook and Sam Robson to be opening under cloudless skies.
Cook was very watchful on his way to 14 not out, leaving everything he could and playing very straight. It was almost as if he had stripped his game bare.
He had one let-off, an edge that didn't quite carry to Sangakkara at slip. Just as Prior survived a second-ball review at Lord's, on such moments fortunes can change.
If Cook has had the slice of luck that sends him on the way to a big score, it will come at the best possible time following the comments he made to me on Thursday about the criticism he has been receiving from the likes of Shane Warne.
The captain is feeling the pressure and it is impossible for him to not put Warne in the same bracket as Kevin Pietersen and Piers Morgan, even though he may be wrong.
But, if England win and Cook gets runs, what can Warne say then?
Jonathan Agnew was talking to BBC Sport's Stephan Shemilt