England face ODI tri-series with Australia & India before World Cup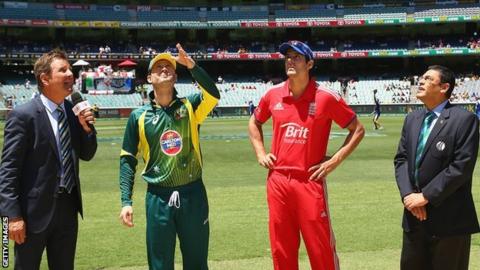 England's final preparations for the 2015 World Cup will be a triangular one-day international series in Australia, also involving India.
After two warm-up games, the three teams face each other twice each between 16 and 30 January 2015.
The final will take place at the Waca in Perth on 1 February.
Alastair Cook's England side then face Australia, who co-host the World Cup with New Zealand, on the opening day of the tournament on 14 February.
The England players will have spent Christmas and New Year at home after playing a seven-game ODI series in Sri Lanka in November and December.
As well as Australia, their World Cup group includes Sri Lanka, Bangladesh, New Zealand, Afghanistan and Scotland.
One-day tri-series in Australia 2015
7 Jan: England arrive in Sydney
12 Jan: ECB v BCCI warm-up match with full ODI squad participation, Sydney (Drummoyne Oval)
14 Jan: v PM's XI, Canberra (day/night)
16 Jan: Australia v India, Melbourne (d/n)
18 Jan: Australia v England, Sydney (SCG) (d/n)
20 Jan: England v India, Brisbane (d/n)
23 Jan: Australia v England, Hobart (d/n)
26 Jan: Australia v India, Sydney (SCG) (d/n)
30 Jan: England v India, Perth (d/n)
1 Feb: Final, Perth (d/n)
Fixtures and start times are subject to change. The BBC is not responsible for any changes that may be made.