ICC: Narayanaswami Srinivasan ratified as new chairman
Last updated on .From the section Cricket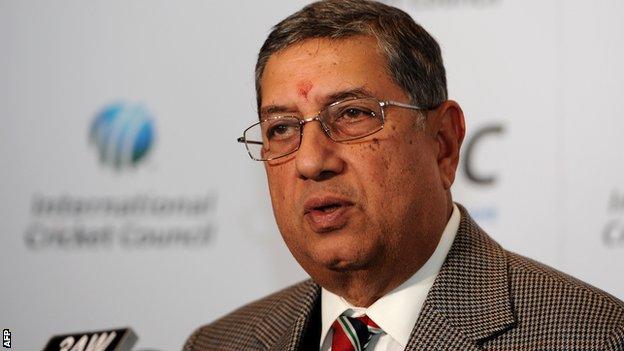 Narayanaswami Srinivasan has been confirmed as the new chairman of the International Cricket Council, despite ongoing investigations against him.
Srinivasan was suspended as chairman of the Board of Control for Cricket in India (BCCI) pending an inquiry into corruption charges over the 2013 IPL, although he denies any wrongdoing.
Controversial changes to the governing body's constitution, giving more power to India, Australia and England, were also confirmed, while Mustafa Kamal of Bangladesh became ICC president.
"I will leave no stone unturned in trying to strengthen the pillars and foundations of our sport, both on and off the field," said Srinivasan.
"I want to ensure that cricket retains and grows its popularity, and that the ICC plays a leading role in this global growth.
"I want to see more strong teams in international cricket. For this to be achieved, we all need to work hard to develop local talent in our countries."
Srinivasan's appointment was confirmed after his nomination by the BCCI, while the approval of the constitutional changes followed an ICC board resolution taken in Singapore in February and finalised on April.
As part of those resolutions, a new executive committee — which will report to the ICC board — was formed.
List of recent ICC presidents

Date

Name

Nationality

2012-2014

Alan Isaac

New Zealand

2010-2012

Sharad Pawar

India

2008-2010

David Morgan

England

2007-2008

Ray Mali

South Africa

2006-2007

Percy Sonn

South Africa

2003-2006

Ehsan Mani

Pakistan
The initial chair of the executive committee will be Cricket Australia's chairman Wally Edwards while the chair of the ICC's finance and commercial affairs committee will continue to be England and Wales Cricket Board chairman Giles Clarke.
The BCCI suspension does not stop Srinivasan, a 69-year-old Indian industrialist, from taking up his ICC position. His third year as BCCI boss will expire in September this year.
Srinivasan was told by India's Supreme Court to step down in March while an investigation was carried out into illegal betting in the Indian Premier League (IPL).
The court has appointed a panel to investigate spot-fixing and illegal betting in the tournament.
Spot-fixing includes players bowling wides and no-balls at certain times arranged beforehand with bookmakers.
Srinivasan, who owns the Chennai Super Kings franchise, stepped aside from his post as BCCI president in June last year after his son-in-law Gurunath Meiyappan was arrested over allegations of betting in the IPL.
Meiyappan has since been released on bail and denies any wrongdoing, while Srinivasan returned as the head of the cricket board until his suspension was imposed in March.
Kamal becomes the 11th ICC president and the first from Bangladesh, 14 years after his country became the 10th Test-playing nation.