Australia and New Zealand plan first day-night Test match in 2015
Last updated on .From the section Cricket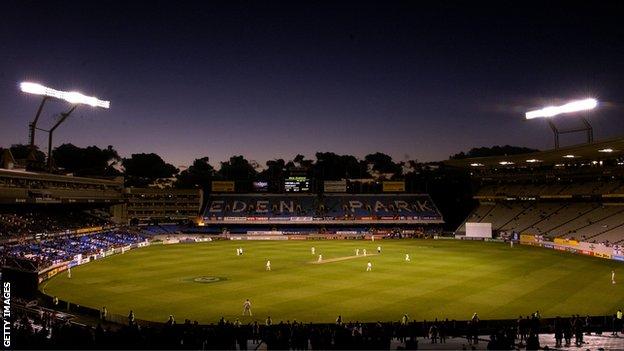 Australia and New Zealand are planning to play the first day-night Test match in November 2015.
The venue, in Australia, is yet to be decided but the match will not be the traditional Boxing Day Test in Melbourne or New Year's Test in Sydney.
"The challenge is to try to make Test cricket more accessible for fans," said Cricket Australia chief executive James Sutherland.
The move could lead to the introduction of a pink ball to be used under lights.
The International Cricket Council has previously backed the idea of nations working together to stage day-night Test matches.
"We are serious about pushing ahead with the concept of day-night Test cricket," said Sutherland. "We feel it will only strengthen the position and possibilities for Test cricket in many parts of the world.
"There are many Test matches played during non-holiday periods when adults are at work and kids are at school. That's not an ideal way to promote the highest form of the game.
"We're not talking about playing the Boxing Day Test or New Year's Test at night. The summer holiday period in Australia really lends itself to Tests, but at other times of the year it can be difficult for fans to attend or watch Test matches."
White said the two nations would continue to work together to develop a pink ball suitable for Test conditions.
"Ensuring the ball behaves as closely as possible to the red ball is vital for the success of this initiative," he said.
ICC chief executive David Richardson gave his backing to the plans.
"The discussion on day-night Tests started in 2008 and I'm pleased that we are now at a stage where two of our members are contemplating playing the first ever day-night Test," he said.
"The MCC and some of our members, including Cricket Australia, have trialled pink balls in different conditions and the feedback indicates that significant improvements have been made to the quality of the ball," he added.