Lancashire's Paul Horton pleased to 'stand up' with first century
Last updated on .From the section Cricket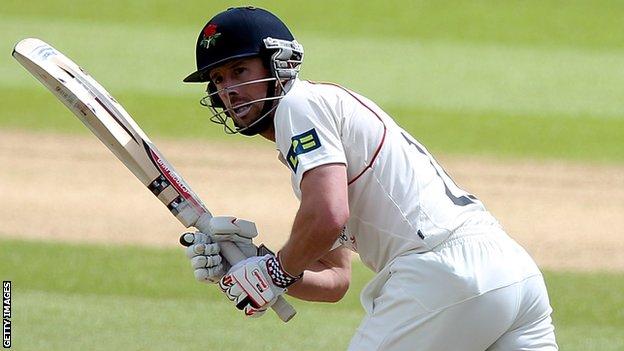 Paul Horton was pleased to contribute to Lancashire's cause with his first century of the season against Somerset.
"It's nice that a few different boys have stood up at different times. It can't be your day every day," he said.
"Ashwell Prince and Steven Croft got big hundreds against Northants. It wasn't their day, it was my turn to stand up and take the mantle."
He continued: "That's what we try and dove-tail as a team and that's what being a team is all about."
Prince and Croft both recorded their highest first-class scores in a partnership of 332 as Lancashire beat Northants by an innings and 200 runs in their previous Division One fixture.
Horton scored his first century since September 2013, with his 256-ball innings including 21 fours.
Sydney-born Horton, who had only previously passed 50 three times this season, told BBC Radio Lancashire: "Every time you get a hundred is a special moment in first-class cricket.
"What I haven't done well this year is when I've got in, I haven't gone on and got a hundred.
"I've got a couple of 80's and a couple of 40's I'd like to have converted. I've got in and managed to convert it to a big score."