Lou Vincent: Shamed cricketer was threatened with bat over errant six
Last updated on .From the section Cricket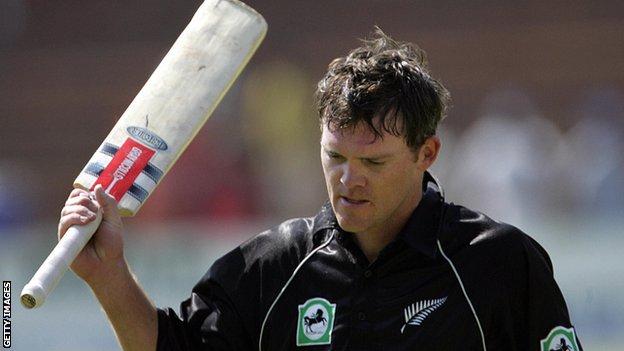 Banned cricketer Lou Vincent has told New Zealand television he was threatened with a cricket bat in a hotel room when he messed up a fix.
The 35-year-old said a member of a betting syndicate turned on him when he hit a six instead of getting out, as had been agreed.
"I got a phone call to meet the person I was working for," Vincent said.
"He got a cricket bat and he was walking towards me with a killer look in his eyes."
Vincent, who was banned from cricket for life on Tuesday after pleading guilty to breaching anti-corruption regulations, said he feared he was going to be attacked.
"I could tell straight away that I'd done wrong," he told TV3. "I was really surprised that he didn't follow through and hit me."
Lou Vincent factfile
Born Auckland, November, 1978
Century on Test debut November, 2001 against Australia
23 Test caps for New Zealand, scoring 1332 runs at an average of 34.15
102 one-day internationals, scoring 2,413 runs at an average of 27.11
County cricket for Lancashire, Northamptonshire, Sussex, Worcestershire
The incident occurred while Vincent was playing in a rebel Twenty20 competition in India in 2008.
The former New Zealand Test opener explained that he agreed to fix matches by deliberately getting out for low scores, but his mistake compromised the arrangement and he did not receive payment.
Vincent said he was first approached to fix matches at a meeting with a local businessman, who was there to discuss promotional endorsements.
Instead, Vincent was offered the services of a prostitute and a large stack of American dollars.
Vincent said he initially turned down the approach, but changed his mind when he discovered a personal hero of his was involved in fixing matches.

"There was no way I could say no," he said. "The person I was working for was a huge role model to me."
Vincent admitted that he was also motivated by bitterness over the way his international career had ended.
"I probably had a chip on my shoulder," he said. "I left New Zealand pretty heart-broken and a bit angry at the system."
Despite losing the trust of the fixers in India after his error, Vincent was approached again when he moved to England.
"I was forgiven and told I had to earn trust back with him and his people," he said. "I was told to underperform and prove I was trustworthy."
Vincent did what he was instructed and received payment for those performances, which ultimately lead to him being charged by the England and Wales Cricket Board.
He pleaded guilty to all 18 charges relating to three matches played in England in 2008 and 2011.
Vincent admitted last December he had been co-operating with anti-corruption officials investigating alleged match-fixing.