Inter-Provincial: Leinster beat North West by 65 runs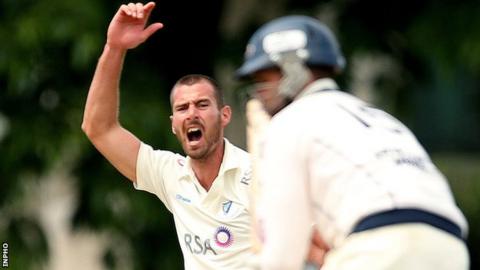 Leinster Lightning made it three wins from three in the Interprovincial Championship by completing a 65-run victory over the North West Warriors.
Leinster had gone into Thursday's final day at Malahide on 116-1 - a lead of 252 - and declared on 156-2.
That left a target of 293 in 97 overs, and the Warriors made a decent effort, captain Andy McBrine last out with 87 and Johnny Thompson scoring 42.
It was the brittle Warriors top order that was found wanting again.
Max Sorensen (2-54) and John Mooney (3-71) reduced them to 11 for 3, and then 63 for 5 shortly after lunch when Stuart Thompson (34) was dismissed.
To their credit, the Warriors battled back, led by skipper McBrine, who together with Thompson added 62 for the seventh wicket and at 173 for 6, there was still an outside chance they could snatch an unlikely victory.
However, there was to be no fairytale run chase as both Ricky-Lee Dougherty and Craig Young went cheaply.
Albert van der Merwe claimed the scalp of McBrine to finish with figures of 4 for 54, completing an excellent all-round performance for the former Irish international, following his match-winning batting heroics in tandem with Sorensen.
Leinster Lightning 324 (M Sorensen 86, B Coghlan 60, C Young 4-91) and 156-2 dec (F McAllister 71, P Collins 45 not out, A McBrine 2-33)
North-West Warriors 188 (E Kemm 55 not out, J Mooney 3-34) and 227 (A McBrine 87 J Thompson 42, A Van der Merwe 4-54)
Leinster Lightning won by 65 runs
Leinster Lightning 324 (M Sorensen 86,, B Coghlan 60, C Young 4-91) and 156-2 decl (F McAllister 71, P Collins 45 no, A McBrine 2-33)
North-West Warriors 188 (E Kemm 55 no, J Mooney 3-34) and 227 (A McBrine 87 J Thompson 42, A Van der Merwe 4-54)
Leinster Lightning won by 65 runs